Sewing. Does that word strike fear in your heart? Does it make you angry? Frustrated? Annoyed? Hard to believe, but it did with my girls the first lesson. Wow, we're learning so much more than just sewing in our daily lessons. We just started Saturday night, and we've already completed needle books and tissue holders out of felt. All hand sewing thus far. We'll move on to the machine after a little while. I want to teach them to sew on buttons and do mending first.

They can thread their own needle, tie their own knots, and tie off when they're finished.

As we were having our first lesson, there was much more complaining than I thought. Many times Artsy Sis was frustrated, and she threw her needle down in disgust. We are learning that needles are dangerous and sharp, and if you throw it down out of frustration you will be excluded from the next lesson. Also, scissors are tools, not toys.

Persistence. Patience. Careful work. Slow and steady. Finishing what we start. Self-control.

These are all things we are learning in addition to our sewing skills. Spending time with my girls in this way is so valuable. Who would have thought so many life lessons could come out of sewing lessons? Can't wait until we start using the machine...that should be interesting!

So, here are our pictures of the things we've made.


Book Worm's needle book and tissue holder

Artsy Sis's needle book and tissue holder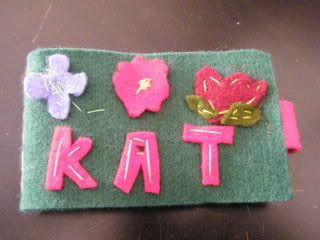 Love Bear's needle book and tissue holder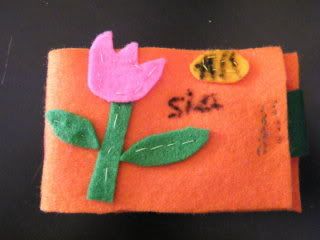 And I realize their real names are on their needle books, but if you promise not to tell the kidnappers where we live, then I'll leave the pictures up. I did promise the girls I would post their efforts. Yes, the stitches are a bit crooked, yes the thread has been tangled in some areas, yes some things aren't exact- but we are
learning
. Together.
And it's been a lot of fun! We laugh a lot. We play. And even though there's been frustration, every morning so far they wake up and ask me what we're doing next, or if they can finish the project they've started. Wow.
I. AM. LOVING. IT.