So I've done some more sewing. The little onesie things were for a Deaf woman in our church. Her baby is due next month, so I sewed a little skirt to go with a long-sleeve onesie, and then I sewed a skirt to a onesie, put a fabric rose on it, and a little embellishment at the neckline.



I also made a plastic bag holder from this tutorial. They don't sell things like "sweet charm packs" here, so I looked up what the sizes of the squares were and did it on my own. My sizes are different from hers, as are the elastic lengths. I wanted my holes smaller. It took me like an hour. It was great! I can see these being great gifts...or something. Didn't it turn out cute?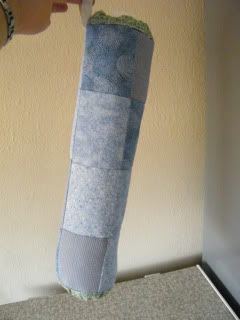 I am so obsessed with patchwork now. Not enough to make an entire quilt, mind you. Words like binding and quilting are still a little out of my league, but I AM working on a tutorial for a reversible patchwork skirt. I am making it up as I go along, so it may take me a while. Figuring the size of the squares alone was a doozie!

I'm hoping to get some work done on them today, however, since it's supposed to thunderstorm. I have three to do, LOTS of squares to cut out, and figuring to do. I have the idea in my mind, and I'm pretty sure it's executable, I just have to put it into action. Which means I need time.

Maybe early next week I'll have it ready...we'll see. Have a wonderful weekend with your families! If you have nice weather, go take a walk. You won't regret it!