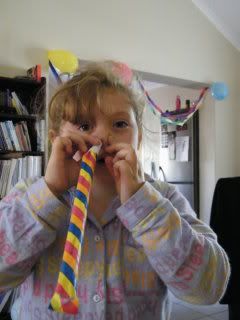 Her new musical talent!

Cinderella
woke yesterday feeling MUCH improved. I am so thankful! There were so many birthday things she didn't get to play with or do because it was a Sunday, so I was very glad to see her up and ready to take on the day. I still canceled school because she needed the rest (and so did the rest of us!) so she was able to do easy things like mine for crystals, design her T-shirt, and watch movies. All things which she likes doing very much.
After ten minutes of work, crystals start to emerge.

All clean and shiny!

She designed the t-shirts and I added the ruffles and skirts to them.

Kanga and Cinderella in their matching designs.