My second attempt at a tutorial, and nothing could be easier, I promise!!

You will need:
A t-shirt that is too long for your child
(Or a t-shirt you want to spruce up, and coordinating fabric- perhaps an second old t-shirt you don't mind cutting up.)
Needle and thread or sewing machine
Scissors
Patience

**This shirt I'm using here is actually the top of Snow White's Easter dress. That's why it's so short. This tutorial assumes you'll use a different, coordinating t-shirt for the ruffles.


STEP ONE
Lay your coordinating shirt (the one you want to cut up) out on the counter and cut four strips width-wise from the widest part of it.


STEP TWO
Cut the strips apart at the seams on either side. You will now have eight pieces of material that are the same length. (I only ended up using three of mine.)

STEP THREE
Take one of these strips and sew right down the middle with a long basting stitch. (Set your machine, if using one, to the longest stitch length setting.) Leave a moderately long tail of thread on either end.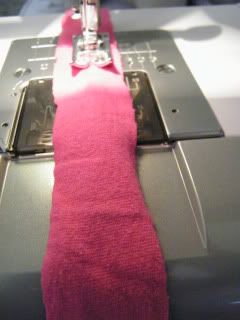 STEP FOUR
Tie the threads at one end together in a double knot. This will prevent your thread from being pulled into the ruffle, which would make the whole thing come undone. Not cool.

STEP FIVE
On the other end of your strip, take the front thread (not the bobbin thread) and gently pull. Your material will make itself into pretty gathers. Make it as tight or as loose as you would like. When finished, secure the threads with a double knot like you did at the other end.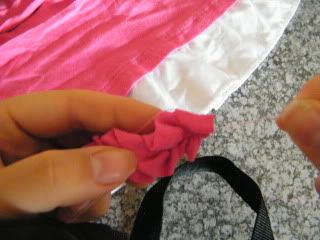 Pardon the camera strap. Cinderella took this pic. :0)
They scrunch up quite a bit, so if you want a longer ruffle, sew a couple of your strips together at the short end before ruffling.
STEP SIX
Set your machine's stitch back to a normal length. (For me that means two and a half.) Center the ruffle on the front of the shirt you want to spruce up, and sew into place, following the line you've already sewn down the middle. Back-stitch at the beginning and ending of this stitch.
You'll want to sew slowly to make sure none of the ruffles are being pulled into the seam. I had to stop and lift the foot a few times to readjust.

STEP SEVEN
Cut your next strip a little shorter than the first one. Cut another one to match. These will go on either side of the first ruffle we've sewn to the shirt.Continue following steps one through seven, until you have as many ruffles as you want.
If you want your ruffles like a poof ball (like mine is) then you will need to lift the side of the center ruffle a bit, and sew the new one close to the seam of the first.
TA-DA!! New life from a couple old shirts!!
I bought some new shirts on sale for me recently (two fifty each!), and I'm not thrilled with the fit. So I will be posting the spruce-up of those once I actually hunker down and get to the sewing. What do you think? Easy, right?
And if you're cutting off the shirt to turn it into the top of a dress, save the bottom portion and whip up a skirt for a dog. Your daughter will love you for it!
Easy to please!