Do you ever have times where you're just "in the mood" to do something? Where you get on a kick and don't want to stop until you do everything you have planned? You wake up in the morning thinking about that thing, and looking forward to spending time concentrating on it? Well, I was on a sewing kick. I bought a new machine a while back and was making all sorts of stuff, and then...then...my machine broke.

Seems the thread that got stuck messed up the timing inside. Or something. I'm just repeating what my friend's husband told me. Remember how I am with parts and stuff? Yeah.

So here are some things I finished before the messing-up of the machine.

Cinderella in her new shirt *I widened the sleeves so they covered more* AND matching head band.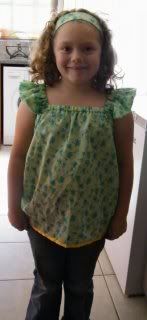 Sleeping Beauty in her new dress (from the above tutorial, lengthened into a dress.)


The girls' bags I made for Christmas with their applique things actually sewn on. (Except for Snow White's which was left in the car and is now running errands with the Prince.)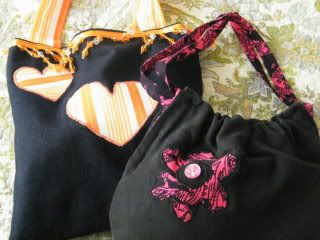 Doesn't it seem like something can sit around for a whole long fat while, and then when you're really into using it, it breaks? Why does that happen? Anyone else been a victim here?

I keep thinking of the song words "don't it always seem to go, you don't know what you've got 'til it's gone..." and missing my machine. I have a WHOLE LIST of projects that need finished, material ready to go, buttons and ribbon and elastic....and EVERYTHING.

I'm all organized. And hyped up. And ready to roll.

And since I got my machine back, and it didn't cost me a blessed cent, I am indeed going to roll. Wanna hear my list of things to make? Alrighty, here it is:
(These are in the order I plan to make them)
1. Fixing our pillowcases. I bought HUGE ones. Oops.
2. Weighted pin cushion organizer.
3. Snow White's Lazy Day Skirt to match her shirt.
4. Slips for the girls to wear under dresses etc.
5. Wall pocket Tidy Totes.
6. Steering Wheel covers.
7. Something with shirring.
8. Sling Bags
9. Tote bag/purse for my friend.

And somewhere in there I'm going to do something with hexagons and those little round hand-sewn things that people use as pins or bag decorations and whatnot. I'll let you know how it goes.

I've also added a box on the sidebar with these listed, which will be updated as I finish things. That should put a fire under me, so to speak.

Anything you're making I ought to add to my list? And just to warn you, I don't do patterns. I measure, and that's all. Patterns frighten me. And I have yet to attempt a real sleeve. Maybe I'll work up to that too...eventually.