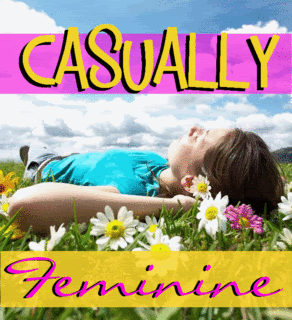 So, I was approached by Brenda about joining her and Karly on this little journey called 'becoming more feminine'. She also asked me to make the button, which prompted me to think that's what the invite was really about, but she said it wasn't. So I choose to believe her. :0)

I decided to join them because, while I dress femininely already, I often find myself not getting there until around noon or until I have to leave the house. And sometimes the hair never makes it. There are other things I need to work on in the feminine department (like shaving regularly and, um, my FEET), and felt joining in these discussions would be a good challenge for me.

I've also never really defined what feminine means to me, and I need to do that so I can pass it along to my girls. See, I have three of them (9, 7 soon to be 8, and 6). We, if you don't know anything about us, live on the mission field in South Africa. My husband is Deaf, and we minister to the Deaf. And let me tell you Africa is a whole different ball of wax relating to culture and clothing and...most everything, so I need to get this all figured out.

What I do know is when I think of the word feminine, the word 'lady-like' comes to mind. I think the two go hand in hand. Ladies are feminine, and if one wants to be feminine, they must act lady-like. Agreed?

I'm sure that's the beginning of a whole 'nother post...so I won't go there right now...

Anyhoona, there are a whole SLEW of things we'll be discussing, and we want you to join us! Every week there will be a new topic (until we run out of ideas!) and while we discuss, we'll be digging into the Bible to see what God's Word has to say about all this. 'Cause without that, all our efforts are in vain. It also doesn't hurt to commit all this to prayer, ya know.

Brenda's hosting, and if you're interested in joining us, we'll be kicking off with sleepwear next Wednesday. You can post a pic of what you wear (whether you're in it or not- I choose NOT for me) or just describe it, and why/how it needs to change. What can you do to make your sleep attire more feminine? You can also write a little bit about who you are and what your overall goals are, if you wish. But you won't get a grade, (even though we're all homeschool moms!) so no pressure. I may mentally correct your grammar, though.

And in the meantime, if you're a married person, ask the hubby what he thinks about femininity, and what he would like to see improved in your version of it. :0) It might hurt at first, but it's a worthwhile hurt to pursue. The Lord will help you!

Remember, this is a journey we're on together, so you can surely find encouragement and helpful info here with us. If you need to make some changes, you're in good company!