What a thrilling title, eh?

We've had some fun things going on around here and I just had to share with you. Not sure you'll care, but they were interesting to me.

The first is that TODAY Sleeping Beauty turns nine. NINE!! I have an almost-pre-teen!! How did this happen? Wow, she is getting so big. Growing up and making me nervous. Not because of her behavior or anything, but because I can see the little girl growing out of her and being replaced with a young woman. Not that I would hinder her growth, but I am not thrilled of the prospect of her eventually leaving me. I know I'm supposed to be preparing her for that time, and I am, but I am not happy about it. I want to keep my babies with me forever, and protect them from this hateful, mean world. But I can't.

The second thing is that Cinderella and I have been practicing writing letters to each other backwards. In cursive. With our left hands. She is my artsy girl and wanted to try it. So we did! And it's not as hard as I thought. See, when I was a girl my mom taught me to write my name backwards in cursive with my left hand. Wanna give it a try? It's fun!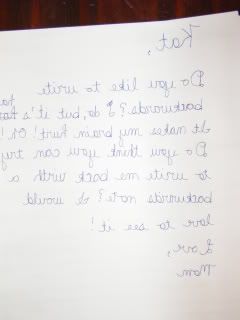 The last thing (okay next to last thing) is that we got a package in the mail yesterday from a friend in our hometown. She sent us American candy! Things we can't get here, like Skittles, Reese's Pieces, Twizzlers, and M&Ms. What a nice surprise! And just in time for the birthday. The girls were so excited.

The last thing is homemade caramel corn. This stuff is SO GOOD. And it's easy. Although it is probably VERY fattening. I made it the first time for New Year's Eve, and it was a huge hit. So yummy. MMMM. MMMM. MMMMM. If you want the recipe, just ask!



What's up with you lately?