There are two more things checked off the list. Well, trinket boxes weren't on it to begin with, but I had purchased them and decided to give them to my girlies for Christmas. More on that below.

Mosaics are fun to work with, but time consuming. There is a lot of planning involved if you want them to turn out nice. Mine turned out okay for a first time, but probably not something I would want to give to anyone but family, lol.

Here are some photos of the whole process. Aren't you excited? Well, most of the process. After a while I got tired of taking photos, and just wanted to get finished!

For this project you will need:
Tile nippers, a bank or other project you'd like to finish, paints, glue, tile grout, paintbrush, sponge, newspaper, tiles, embellishments, double-sided tape, an old bowl, popsicle sticks, water. Oh yeah, and a sponge.

The first thing you do, obviously, is gather all your materials. The amount of tiles you'll need depends on the size of your project. If you nip the small individual tiles in half for your border, you'll save a lot and still have a cute look. You can always ask the person in the shop to help you out.

Lay your newspaper on your work surface so you don't get glue and paint all over the place. It's a good idea to mark out your ideas for design before you get started. Unless you're going for a hodge-podge of tile bits, which is a fine look too.

If you're making a bank like me, then start by brushing a thin line of glue on the edges of your box. Press the nipped tile bits firmly into the glue. Be careful not to let you fingers slip, as you may end up with cuts. I didn't, but it's easy to do. Seriously take your time.

Once you have all the borders on all sides done, give them an hour or so to dry. Then you can begin working on your interior design. Since I had three to do, I just let them dry as I worked on the others. It was a good system. Just time consuming. Did I mention that?

After you have the designs filled in, then you need to grout. Use an old disposable plastic bowl for this. Trust me, you DON'T want the excess going down your drain. Why? Because it's grout, and it hardens. Not a good mix for pipes. Really.

Mix the grout so it's like a thick frosting. (Or peanut butter) Isn't that just like me to bring it all back around to cake? A good rule of thumb is to lift some out of the bowl and turn it upside down. If it slides off, it's too thin and you need more powder. If dry chunks plop off, then it's too dry and you need more water. It should stick to the spreading tool without falling off.

I used a popsicle stick to fill in all around my tiles with grout, covering even the tops of them. It's ok, you wipe it off after a bit. It looks weird at this point, to cover over your pretty design, but you need to do this. It's what will make your tiles permanently affixed to the project.

After waiting thirty minutes or so, take a bowl of water and submerge your sponge in it. Then squeeze out as much water as you can. Gently wipe over the tiles to remove the grout that has covered their surface. Don't press into the grout on the sides too much, as you don't want to remove it.

After your project has dried overnight, wipe off the excess film on your tiles with a soft cotton cloth. It will reveal your design, and look great! Here are how my girls' banks turned out.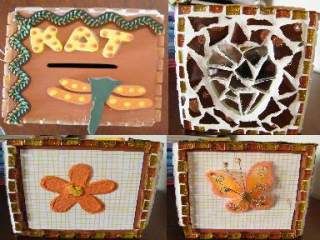 The next project I did took about ten minutes total. I bought these little metal boxes and thought they were adorable. I cut scrapbook paper to fit around the sides, then embellished them with little jewels and flowers and butterflies I had around. For the top, I used foam letters and butterfly stickers.

Simple and cute! I am hoping they will use them for their hair clips and jewelery. But chances are their ponies and Barbies will be doing something in them. Who knows!

Two somewhat easy projects checked off! Just a few more to go!