I am finally almost done with Christmas crafting. With all the ambitious projects I wanted to crank out this year (half of which I needed a sewing machine for and didn't own one!) I am catching up to the finish line.

And it feels good!

We are going out of town on Monday. If I can get the other two pillowcase dresses/tunic tops sewn and the tote bags done, I'll be golden.

I realize that is a HUGE "if", because tomorrow (Saturday) I need to bake something to share at church because it's the last Sunday before Christmas, and then Sunday is, well, a VERY busy day for us. But I am hoping to crank tonight and finish up everything.

Actually, as soon as this posts I am headed off to lock myself back in the bedroom and get to work. [whip cracks]

Here are the pictures of the wall names (finally Brenda!) and the one dress I've finished.


And I promise the names look cuter in person. I'm not sure what is going on with the camera. Maybe because it was too hot to work with the lights on and I used a flash? Or maybe it's the angle of the top and bottom one. Sia's looks pretty cute actually.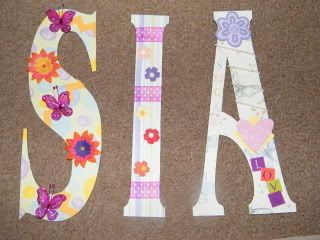 Making these made me realize that my decoration choices were limited to pretty much butterflies and flowers. Oh, and a few hearts thrown in for good measure. Are we girly or what?

That makes total:
Mosaic Banks
Metal Trinket Boxes
Wall Names
Pillowcase Dresses
Tote Bags
Stocking Stuff

I think they're set for Christmas and beyond. Although they did ask me about buying gifts for each other like we did last year. I need to ask the Prince about that. I'm thinking that's a "No" this time around. Enough is enough, and they've got plenty!!

How are your gifts coming? Making your own? Everything bought? I want to hear!