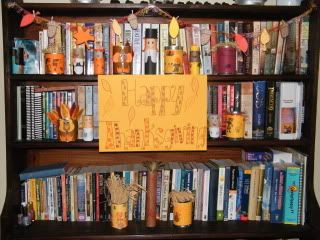 First of all I have to show you the inside of the Red Velvet cake.
See how the bottom layer looks a little black?
We'll just go with
dark
green, ok?
Now onto the crafts!
We did some very easy, cheap and FUN crafts. What better combination could you ask for?
Toilet Tube People
These are very easy. All you need are a bunch of toilet paper (or paper towel) rolls, construction paper, googly eyes, glue or double sided tape, and markers or colored pencils. Oh, and scissors.
Start (for a Pilgrim) by measuring around the tube (the circumference) and cutting black paper to fit the body. Only cut it high enough to go half way up, or you won't have room for a head. Then cut a bib, a hat, and glue them on. Draw on cutesy facial features, glue on googly eyes and there you have it!
Leaf and Acorn Garland
Also very easy. You will need construction or scrapbook paper, knitting yarn that's thin and shaggy, double sided tape, and mini clothespins. (The yarn I had from a project I
wanted
to do but couldn't get any needles to cooperate. So it's being re-purposed.)
Cut out leaf and acorn shapes from the paper. Tape the yarn stuff to your book shelf or wall or doorway with double sided tape. Add your cut outs with the mini clothespins. Very cute!
This would also look good along the tops of curtains.
Tin Can Murals and Turkeys

For these you need construction paper, double sided tape, tin cans (washed and labels removed), markers, googly eyes.

Start just like your toilet paper tubes, by measuring the circumference of the can. Then measure the width of the space where the label was. If you're smart you can just keep the label for a template, but I soaked mine off and ruined them.

Then draw any designs you like: leaves, flowers, words, turkeys etc. Or, if you like, make a turkey out of it, complete with beak, feathers, etc. I am too lazy to write out the directions for that part, but study the picture and I'm sure you can figure it out.

You can fill them with raffia like we did, or use them as utensil or napkin holders on the table. Or put candles in them and make the table that much more festive. Really no limit as to what you can do!

A Sign

Nothing says welcome to the party like a Happy Thanksgiving sign. I used a medium yellow piece of card stock which cost me fifty cents. I decorated the inside of the letters with leaves and an abstract vine-ish pattern on the top, and retro-ish block and circle patterns on the bottom. Then I added a few simple leaves, and voila! Just what we needed to pull everyone's eye to the book shelf. (Where all the other cute stuff lives.)



Tissue Paper Pom Poms


These were found from another site, but they found it at Martha. (Where else?!?) So I'm gonna leave you with our picture, but her link
. They are super easy and cheap. And look SO festive! Love these! Think they'll be a new standard for birthday parties, etc. Just too cute!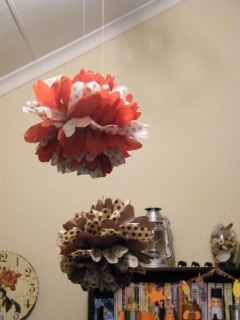 I'm also thinking about making the bitty ones for napkin rings too.

I don't just happen to have florist wire lying around the house, so I wrapped pipe cleaners around the middles (in coordinating colors of course) and used regular old sewing thread to hang them. (Since I don't have

monofilament

lying around either.)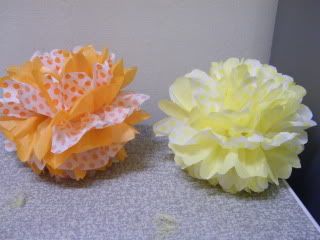 And since this is SA and they never have plenty of anything craft-wise, I couldn't get all plain tissue paper. But I'm thinking I like the polka dot mix better...just waiting to borrow a ladder to hang the other two. Maybe I'll add a pic of the finished table top later.

So, how are you decorating this year?