This year I am not buying my kids one toy for Christmas.

Not. One.

They have too many as it is and can't keep their rooms neat. (Well, Sleeping Beauty does, but all the games and toys and Barbies are in her sisters' room.) Why should I buy more things to keep organized when we are completely happy with what we have?

So.

This year I am making gifts. Yes, that's right- MAKING. GIFTS.

And I couldn't be more exited about it. Today I even went out with a friend to a mosaic shop. And I am TOTALLY excited about what I found there.

But I'm getting ahead of myself.

Today I want to share some ideas with you for what you can do to make gifts too. Easy things that won't cost too much, but could be something your child will absolutely love.

Since I have little girls, whose hair is always in their faces, this idea seems so easy and smart! Braided elastic headbands. There's no limit to the material you can put together, and it doesn't cost a lot! Head over to Lu Bird Baby to see her tutorial. (By clicking the link above.)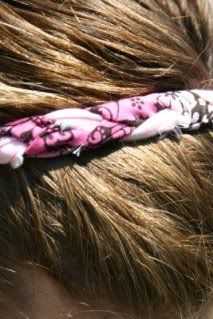 My girls will LOVE these...and so will I! Hair in the face I cannot stand.

And I also plan to make these custom names, one for each girl to hang over their beds. Can it get much easier than that? Today I bought some decorative butterflies, and I already have ribbon and scrapbook paper.

The other little embellishments I am sure I can find at a craft store...and I plan to add beads too. In some fashion. Just not sure how yet. I think my girls will love them, and be very surprised. I may also throw in some wire. Who knows!

I also am planning to make them each their first and very own stocking. Since Snow White is into ballet, I am thinking of making her the ballerina shoe, Cinderella a kitty paw (adapted from the puppy paw), and Sleeping Beauty a pretty elf shoe. Aren't they adorable? And easy! And cheap! I also plan to stuff their stockings with American candy they don't get ever, and other little things I know they'll like. It should be great!

I also have material a friend sent over that's been staring at me since April (APRIL!) and needs to be made into sweet and awesome jumpers and dresses for summer. And I am still dragging my feet. Anyone want to fly over and help? Please? Those would make great gifts too...

And last but not least (because I have a few more ideas I'm brewing) I am making them each a bank. With mosaic sides. And a custom top. But I can't show you pics because this is something in my head. I bought all the supplies today, and I can't wait to get started! They will be absolutely personalized, and I think my girls will go crazy for them. And I will post the whole process. I am sure I will learn a lot, since I have never done mosaics before. We'll learn together, ok?

I don't want to make it sound like I am making everything, and they won't get a thing they want- that is not the case. They will each get one thing they want. Just not a toy. Sleeping Beauty wants a watch. Snow White a purse. Cinderella...a puppy. Which she won't get so I need to find something else she wants.

And we may buy one new family game. Something the Prince and I want to play too.

Anyway, this year it's all about the crafts. And remembering to be thankful for what we have. And doing for others.

I have this other great idea that ties into the "doing for others" thing. I just haven't squared away all the details yet. But I have all the stuff. And the excitement! But I will be posting soon about all that. Probably.

How's your Christmas planning coming? Making anything yourself? Do tell!!