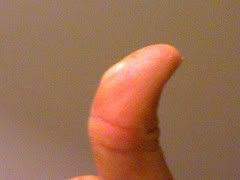 Apparently this is what my body is telling me.

How do I know this?

Well, let's see...this past Sunday I sat at the table with the kids I teach, and while they were doing their little coloring papers, I sharpened pencils. I used one of those little sharpeners that are rectangular in shape and come in various colors of plastic.

Harmless, right?

Well, it appears I am so out of shape (in regards to working) that my thumb and forefinger developed quite large and painful blisters.

BLISTERS! From sharpening pencils!!

What is wrong with me?!?

And then yesterday we decided to clean out the garage. (Many of you who know me well are laughing. And while it may be true we don't have piles of "stuff" in there, it was still dusty and dirty.) I used our broom more like a large bristle brush, and really scrubbed the floor and garage doors well. It looks much better in there now, but I am telling you...

THE BLISTERS!! OW!!

I didn't realize I don't do much hard labor.

But actually, I think my skin is just sensitive to blistering. I also get blisters when I peel potatoes. The friction is the culprit, I assume, but maybe I'm just a wuss? It's possible. But will it stop me from working? Probably not. I have too high a guilt complex for it to come to that.

I know this is so random and let's face it, pointless, but it's what I'm sharing.

What gives you blisters? Other than major sunburns and touching hot things...