Oops. My bad.

I forgot to put the McKlinky thingy up yesterday. Please forgive me! I never meant to be so bone headed but I guess that was just the day. I think I was shell shocked from the abrupt change in weather. It went from summer to winter quickly. Rain and coldness have dominated the week. But I fixed it now and hope you'll all go run to link your posts.

Don't forget to leave a recipe in the comments if you don't have a blog.

Now to the oh-so-good business at hand: desserts!!

This would be another favorite part of any holiday dinner, for me.

I enjoy the whole baking process though, and not just the eating. Finding just the right dessert to make the end of the dinner that much more special is so satisfying.

And let's face it, delicious.

This first recipe is from my BHG Cook Book. I have the pink breast cancer awareness copy. This is by far my favorite cook book. I love everything in it!

Anyway, back to the dessert.

Who doesn't love pecan pie? The Prince adores it, but when he eats a whole piece or two, he's destined for heartburn. Hence, the little pies that I am sharing with you today. Two or three and you're satisfied, without the nasty heartburn.


Ingredients:
1/2C softened butter
1 (3 oz) pkg cream cheese
1C flour
1 egg
3/4C packed brown sugar
1T melted butter
2/3C finely chopped pecans
Instructions:
1. Preheat oven to 325F. In a mixing bowl beat the half cup butter and cream cheese until combined. Stir in the flour. Press a rounded teaspoon of pastry into and up the sides of 24 ungreased mini muffin cups.
2. For pecan filling, beat egg, brown sugar, and the 1T melted butter until combined. Stir in pecans. Spoon about 1 heaping teaspoon of filling into each pastry. Bake 25-30 minutes or until pastry is golden and filling is puffed. Cool slightly before removing from pan. Let cool before serving.
Love that last tip. Did you know that in the oven the pecan filling raises to about the temperature of molten lava? If you serve these to your guests anywhere near the time they came out of the oven, you will disintegrate their tongues.
You have been warned.
This next recipe is my absolute die-for love it, love it,
love it
dessert. I always double it and save one for just our family after company is gone. And I don't hide it, although I am always sorely tempted to do just that.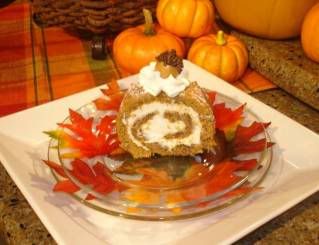 Ingredients:
3 eggs
3/4C flour
2t cinnamon
1t baking powder
1t ginger
1/2t salt
1/2t nutmeg
1C white sugar
2/3C canned pumpkin
1t lemon juice
1C finely chopped walnuts
sifted powder sugar
1 Recipe cream cheese frosting
1. Grease a 15x10x1-inch baking pan. Line with parchment paper. Set aside. In a bowl combine flour, salt, spices, and baking powder. Set aside.
2. Preheat ven to 375F. In a large bowl beat eggs on high about 5 minutes, or until thick and lemon colored. Gradually add the white sugar. Stir in pumpkin and lemon juice. Fold flour mixture into pumpkin mixture. Spread batter evenly onto prepared pan. Sprinkle with walnuts.
3. Bake about 15 minutes, or until set. Immediately loosen the edges of cake from pan and turn cake out onto a towel sprinkles with powdered sugar. Remove the wax paper. Roll towel and cake up jelly roll style (from short side of the cake) and cool on a wire rack.
4. For the filling: in a bowl beat 6oz cream cheese, 1/4 butter, 1/2T vanilla until smooth. Gradually add 1C powdered sugar, beating until smooth.
5. Unroll the cake and remove the towel. Spread the cake with the filling, within 1 inch of the edges. Roll it up, trim the ends, and refrigerate.
YUM-O.
Your turn!!