Today is our Christmas party with the college students. Well, I'm not sure if it's really a party, it's more like a dinner. In the afternoon.

Why?

Because here in SA, everyone goes home in December and stays there all month long. Now, what I mean by "home" is, the farm. Which means everyone goes to see their families that live out in the country. This could be as close as the next township over, or as far as another province altogether.

Family and tradition are pretty big deals here, and people still get together and visit for basically the whole month. Unless they work, then they only stay a week or two.

So our Bible College shuts down for the year (along with public schools here) in December. The new year's courses will begin in the New Year. Good idea, huh? The seasons work perfectly into this since we are heading into summer. So kids get their long break from school at the end of the normal calendar year.

Anyhoona, back to the dinner.

I am bringing a salad (easy!) a tilted (JulieMom specialty it seems) Christmas cake, and a little treat I thought up just this morning that I thought would be good to send home with all the students. (And I might make some more packets for friends when it gets closer to Christmas.)

So for the cake, I made a Red Velvet Cake, but instead of dying the whole batter red, I did one layer red and the other green. It isn't cut yet, or I would share a picture. Then I topped it with the creamy frosting recipe in my BHG Cookbook, and threw that bad boy into the fridge. Can't wait to cut into all it's tilty goodness.

So I was thinking I wanted to send the students home with a little snack/gift, but I didn't want to bust out all the Christmas cookie cutters, etc. since I am hosting Thanksgiving this Thursday and just don't feel in the mood for a marathon baking session.

The girls and I had been contemplating making Puppy Chow for a few days now, and that's just what I did. But since we don't have Chex here, I used a cereal called Maximize. It's nothing like Chex at all, but was a sturdy cereal I thought would hold up nicely to all the mixing. And since I didn't have the required nine cups, I threw in some multi-grain Cheerios to round it out. I made up a big batch, then let it dry on wax paper for a while.

After that I spooned it into little goodie bags, wrapped them up with some Christmas-y ribbon, and labeled it "Chocolate Peanut Butter Snowball Crunch". Fitting name, don't you think? If I called it Puppy Chow here, they would have no idea what I was talking about, and may not eat it. So I figured the other name was a good idea, especially since it'll be the only snow they see all year.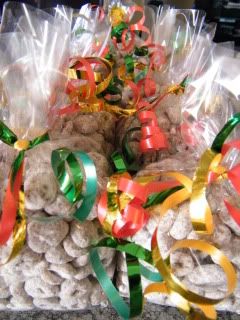 Yum! Giving it away used it all up, but I promised the girls we'd make some more for ourselves. Just not today.

Maybe today.

Maybe much later. Today.