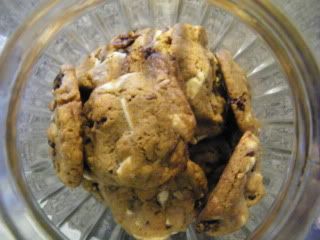 Today was another lovely and cool day. I did more baking, because I have to fit it in when I can. Today's selection is especially delicious. SO YUMMY. I highly recommend having baggies ready to partition them after they are cool, because you will eat them all if you don't.

Don't say I didn't warn you!

1C butter or margarine
1C packed brown sugar
1/2C white sugar
3/4t baking soda
1/2t salt
2 eggs
1t vanilla
2 1/2C all-purpose flour
2C white chocolate pieces
2C chopped pecans
1 1/2C dried cranberries

1. Cream the butter or margarine on medium speed for thirty seconds. Add brown sugar, white sugar, baking soda, and salt. Mix well.
2. Beat in eggs and vanilla until combined. Beat in as much flour as you can. Stir in the rest.
3. Add chocolate, pecans, and cranberries.
4. Drop by rounded teaspoons onto an un-greased cookie sheet. Bake ten minutes at 375F.
5. Let cool two minutes before removing from sheet. (Otherwise they fall apart!)

When you wake in the middle of the night with a craving for one of these moist, delicious cookies, think of me (as I'm sure you will) and silently curse thank me for sharing this fantastic recipe.


You know you want to make them.