Have you found the website HeavenlyHomemakers.com? If not, you need to run over there right now and check out all the great resources! The recipes are one of my favorite parts of this website, but Laura also has meal plans posted, helpful household hints, etc. It's a great site!

One recipe I've tried is the Corn Dog muffins. You can also make regular corn dogs on a stick (which I AM going to try next week!) but I haven't made those yet. Enjoy the recipe and let me know if you've tried it, or have your own to share.

Double this Corn Muffin recipe to make 24 muffins.

1 cup cornmeal
1 cup whole wheat flour
1 t. baking powder
1 t. salt
2 eggs
2 T. honey
¼ cup melted butter
1 cup buttermilk
Stir together dry ingredients. Add eggs, honey, butter and buttermilk. Stir until just mixed. Spoon batter into paper lined muffin cups. Cut hot dogs into thirds and place one piece in each muffin (or chop into smaller pieces and sprinkle a few onto the muffins before baking). Bake at 400 degrees for 20 minutes.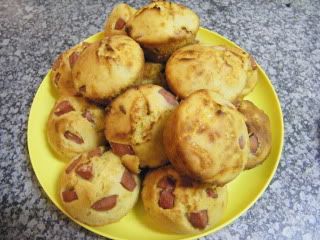 When they're baked, (if you use the 1/3 hot dog method) the hot dogs are completely surrounded by the corn bread, so you can't see it. What a neat surprise to give your kids!

My girls LOVED these. They weren't too dry, and tasted good! I'm sure they would be even better with the good hot dogs you can get in America. The ones here in SA aren't so hot, but we make do!
Hope you give these a try!