Don't you wish that was a real TV show? I'd watch it.

Anyway, my kiddos have been very busy converting boxes we've gotten at the Fruit and Veg store into a sprawling house complete with bookshelves, wall art, rugs, windows, etc. We measured the boxes, drew bricks onto paper, then added them to the outside. The girls then cut, taped and colored the inside as well, and now it's finally finished!


I don't remember designating a "dead horse" room, so they must all be napping.

I love the rainbow and sunset walls. So tastefully done.

There's also a separate entrance into the horse sanctuary.
Just big enough for the rockin' Barbie-Mobile to fit through.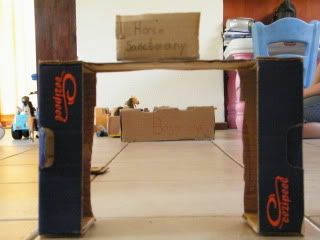 I feel a posh vacation coming on...