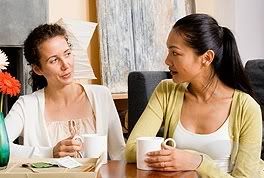 Before I get into my topic for today, I just wanted to give a shout-out to Guide to Art Schools for featuring my Paint.NET tutorials as a link on their site. How cool is that? I'm thinking of adding some others, and a handy button on the sidebar for easy access to them all. So keep your eye out for that. Neat-o!!

Now for the topic at hand.

Proverbs 27:17
"Iron sharpeneth iron, so a man sharpeneth the countenance of his friend."

Since posting about the modesty issue, a good friend and I have had some pretty frank discussions about the whole issue. And I love that. I love that I have a friend who is not afraid to broach the subject from a different perspective and teach me something.

This may shock you, but I don't know everything.

I know, take a moment to process that and come to terms with the truth.

[end sarcasm]

The verse I quoted from Proverbs is so important to me in my Christian walk. Why? Well, because I am programmed with my own personal life experiences, and see things from a certain perspective. When I come to an issue that many mature Christians would define as "basic", I only see the part of the issue that I've dealt with in my personal life. I can only understand my own feelings on it, because that's what I know.

Let's take for example the modesty issue. I see it as an easy issue, because I grew up in church, lived in a small town that respected the Bible and church, and because my parents lovingly taught me the truth without rejecting me for failing, or making a mistake.

My friend had a different experience in her life. She was saved later on, did not grow up in a loving Christian home or have a father who showed her unconditional love. Therefore she looked for genuine love in ways that were not God's best. Modesty was not an easy issue for her, because of how she grew up. Her life experience was vastly different from mine.

There are still others who had basically the same experience as me growing up, but who have been rejected by the church for their failure to conform to the accepted standard, or who have been turned off by someone acting in self-righteousness instead of Christian love.

Can we deal with every person mentioned above in the same way? Do all those people have the same idea of who God is, based on how others have (or have not) loved them? Obviously not. If the way I minister and reach out to others is based solely on my own life experiences, I will (unintentionally) wound and discourage others because I don't know where they are coming from.

Before my discussion with my friend, I would never have thought of that. I don't understand what it's like to not be genuinely loved by my family. I have never been rejected by people at church, because my personality is strongly geared toward pleasing others and having them like me. So I end up complying just so I can fit in, which is as dangerous as open rebellion.

There are women out there who love the Lord, do great things in His name, but would be rejected by people in the church because they do not conform to one dress standard or another. (Or any other standard for that matter.) Have I taken the time to get to know that person and see where they are coming from? Or have I analyzed things from my own perspective and passed judgment based on what my own heart issues would be if I behaved similarly?

I am not saying I was wrong for writing about the issue. I am not apologizing or retracting my beliefs on how a woman should conduct herself and dress. I have simply learned that when dealing with people we need to look at more than the issue that is surfacing. My friend, who shared her thoughts with me has learned something too.

That's why this 'iron sharpeneth iron' thing is so important. We can always learn from other people, and if we are in tune with the Lord, we won't get bent out of shape when others disagree with us, or want to expose us to something we may not have previously thought of.

Psalm 119:165
"Great peace have they which love thy law: and nothing shall offend them."

Does this mean that I won't be offended by sin? No, because it should offend the Spirit within me. Rather it means that I am so in love with the law of God (His Word and pleasing Him) that when another brother or sister approaches me with a different perspective, or a reproof, I will not be offended. I will hear them out because I want to please the Lord above all else.

Sometimes the Lord stretches us and our way of thinking because it is what's most beneficial to the body of Christ. It will edify others if I try to think of things from their perspective, and really pray for wisdom and the leading of the Spirit before acting on the desire to confront.

Just wanted to share another thing the Lord has been showing me.

And E?

You're clutch.