**I promise this post has a point. Trust me.**

If you've never heard the Silly Song from Veggie Tales with the same name as this title, then you are missing out. It's a really catchy, fun song. It's on the DVD with Sheerluck Holmes. Go ahead and click the link, laugh heartily, (the only way worth laughing imho) then come on back.

Seriously, I'm not going anywhere. Go ahead and click it already!

Back? I waited patiently. I didn't even roll my eyes when you watched it twice.

Anyhoona-

I did some online research about abortion today, reading stories of women who have been through the experience, articles about different procedures, etc. while my kids were watching this video. The Lord really spoke to my heart with the idea behind this song.

I haven't lost you yet have I? Don't Silly Songs often speak powerful truths to you? No? It's just me? Alrighty then...

The Lord put the thought in my mind that sometimes church is like a gated community.

What do I mean?

Well, the purpose of a gated community is to only let in those who are "worthy". It is gated to keep out undesirables, troublemakers, and people who are dirty or could possibly be a threat. It also is a safeguard against crime, and keeps the community the way those living inside want it to be.

Have you caught on to my point yet?

Think back to the time when you first got saved. If you lived more than ten years of your life before coming to know Christ, the chances are high that you (like me) made some pretty rotten choices. The chances are also high that you made decisions to sin that still affect you, whether it be because of guilt, shame, or temptation the memories bring.

And if you're human, the chances are very high indeed that you think everyone else can see your sin just by looking at you. That your past is constantly reflected on your face, or isn't hiding in the shadows like well behaved secrets should, but rather calling attention to itself by whispering negative words about you in the ears of those you meet.

And since you can't see anyone else's sin, the logical conclusion is that you must be the only one who has it.

Didn't you feel like that at some point? I have, many times. I've thought that if anyone ever knew the real me, the person only God sees, they would not want anything to do with me.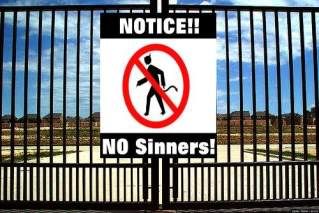 So how does this relate to church? Well, we put on a facade many times. We hide what's really going on in our lives or families. Many people are secretly hurting, or questioning, or struggling, and will never admit it because they don't want others to know they aren't perfect.

And that sets the tone for what is considered acceptable in a church. People who are new see all the perfect Christian robots with their plastic smiles and proper responses, and are very intimidated. They go along with the flow, and instead of admitting they have problems, and seeking help, they are silently drowning in shame, guilt, and worry.

The church makes them look like undesirables because they have sin and struggles.

Let me just remind everyone right now, in case there was ever any doubt, that NO ONE comes to the cross pure. NO ONE is righteous in and of themselves, and NO ONE is less of a sinner than any other person. Or MORE of a sinner than any other person. We are equally lost, no matter what our past life experience.

So you've never had an abortion. You've never had sexual intimacy with anyone other than your husband. You've never taken any kind of illegal drug or cheated on your taxes. But you've lied at some point.

Maybe you've done all the things listed above and worse.

It doesn't matter. There is no qualifying of sin. They all condemn us. (But let me be clear that committing sin doesn't make you a sinner. You were already born one.) No one person who is in need of the saving grace of Jesus Christ is better than any other person with the same need. And it doesn't matter if you've been saved fifty years...you are still human. Still prone to weakness and sin.

So what's my point?

My point is that I've heard stories from people involved with drug recovery ministries who have gotten flack because they're bringing "those people" into the church.

And how dare those who come in off the street on Sunday, desperately looking for answers to the trouble in their lives (and who also maybe don't smell so nice, or have on their best clothes) violate the cleanliness of our gated community church!?!

Did you think back to your life before Christ a while ago when I asked you to? Aren't you glad someone took the time to show you a better way? Do you remember that you have sin, and that none of it is nice?

Then how did we get so far away from what's really important? Why all the fake smiles, always saying we're "fine"? Why do we look down our collective noses at others when we've been where they are?

I think it's because we've stopped practicing James 5:16:
"Confess your faults one to another, and pray for one another, that ye may be healed. The effectual fervent prayer of a righteous man availeth much."

When was the last time you admitted a habitual sin to a good friend? Or told someone you struggle with faith-related issues? Or that you have been attracted to a man who is not your husband? Or any other thing that they could pray for you about that wasn't ministry/leadership/travel/any-other-neutral-thing related?

I don't know about you, but I think not doing this has contributed to the "Gated Community" complex in the church. When we confess our faults (sin) to one another, we are admitting we are human and that we cannot overcome them on our own. It keeps us humble to share our sin with a trusted, mature Christian friend. Letting a trusted friend in on my weakness helps me depend more fully on the Lord, and desire deliverance. There is nothing that will light the fire of change under me as well as admitting (out loud!) to another person my sin.

Do I think this means I need to run to E or WendyMom or Aunt Bossy every time I sin? No. I am to confess my sins to the Lord and He forgives. But when I am confessing my specific sin to God, and I notice a pattern of sinful behavior, I can go to a close friend and let them know that I am struggling with (fill in the blank), and ask them to please keep me accountable. Because who wants a friend to ask how we're doing (with _______) and have to admit we hadn't given it another thought?

We are commanded to pray for one another as well. Why? Because it is the power of God through the Holy Spirit working in our lives that will transform us. God will give grace to the humble. We can only be humble when we remember where we came from. And it knits us closer together as sisters in Christ when we pray together and for one another.

Sometimes we focus so much time and effort on the unimportant things. We get caught up in the planning of special events, the logistics of Sunday morning, the pace of life that our culture almost dictates, and we forget to take time for self-reflection. Or we purposely avoid it, because admitting we have a problem would pop the beautifully crafted bubble of perfection we've made around ourselves and our ministries.

When we do this, then we don't watch out for others who may be struggling, or in need of a mature Christian to come along side them and encourage them. We aren't sensitive to make sure we're real with people, and we surely aren't reminding ourselves how far God's grace has lifted us from the pit.

How long will people wait outside the "Gated Community" hoping to be let in, before they give up and go back to where they came from?

What can I do today that would help break down the "Gated Community" I've built around my own heart and life?

Psalm 145:8,9 "The LORD is gracious, and full of compassion; slow to anger, and of great mercy. The LORD is good to all: and his tender mercies are over all his works."

I pray that I would strive to do likewise.