The second of our Fun Day Thursday activities has been adapted from the original idea just a little. We were supposed to use coffee filters and water colored with food coloring, but I didn't have filters, because we don't drink coffee that way. We use a french press. (I say we but I really mean the Prince.)

So we adapted and used paper and crayons instead. I think this way is more versatile, because you can draw on the back as well, and control the design a bit more. (But the coffee filters and water are fun too.)

Here are the girls working hard: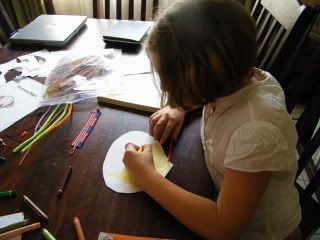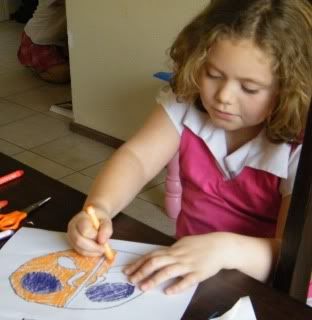 You can use the time beforehand to talk about symmetry, or butterflies in general, and how God has created the designs on butterfly wings to protect them from predators etc. etc. etc. Or you can just give them the stuff and let them go at it. (I did the latter. Because I was busy getting ready for my date with the Prince.)

The Method:
1. Take a sheet of blank paper (any color, any dimensions) and color it to your heart's content. Make stripes, polka dots, or go for a more intricate design, and make it symmetrical. Just cover the whole sheet. (Or use pre-designed scrapbook paper. But that's WAY more pricey. And, you know, lazy.)

2. Cut a circle out of the paper. If you want a small butterfly, start with a smaller sheet of paper (or cut a larger one down to size). If you want a large butterfly, barely cut the corners off and some of the edges so it has a rounded shape. When your circle is cut, fold it accordion style length-wise. (So it's longer than it is tall.)

3. Wrap a chenille wire (pipe cleaner) around the middle of your butterfly while it is still folded, leaving long ends at the top for antennae. Twist these ends together a bit (close to the butterfly itself) for the body, then bend the individual ends in a swirl for antennae. (Just make sure when you wrap around the middle that you make the body above the top of the butterfly, not in front of it when looking at it straight on. See the pics below if that sentence really confused you!)

4. Unfold the wings a bit so you can see the design, and fly them all around the house!

Here are our finished butterflies: (I say our, but I really mean the girls'.)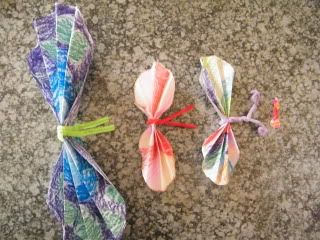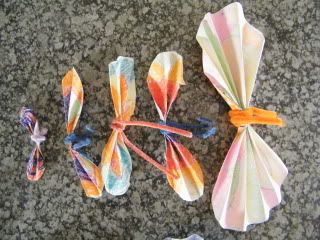 You can tie string around their pipe cleaner middles and hang them from under the top bunk bed so the person sleeping on the bottom is hovered over, or tape them to the ceiling, or tie them to a ceiling fan. You can also clip them to the top of your curtains, or make a clothesline by slipping yarn under the pipe cleaners, and hang a full display on the wall. They're really cute, and the options are endless!

We had a good time with this one. The girls are really into coloring things, and cutting out. Making different sizes was a lot of fun too. Hope you try it sometime! If you do, I'd love to see your post. And pics of you, a grown up person, flying them around.

Because that just makes it all more fun.