I am seriously loving school this year. I am all organized, and things are still running smoothly, with the kids finishing school before lunch, or shortly thereafter. It's a great feeling, because last year they took all stinking day to finish school.

Maybe they're more mature this year.

Anyway, I thought I would share some pictures of what we're doing as far as organization this year. Some of it's changed, as I've found better ways of doing things. Here we go:

This is what our school stuff looked like when we received it from our friends. They dropped it off on their way to Zambia. It's been a HUGE blessing to have people be able to do that for us. Next year we'll be going home, so we won't need them to do that!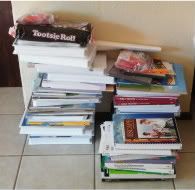 Since I have such awesome friends at home, they kept the Teacher's manuals for us, and just copied the relevant pages, and sent them with our school stuff. That was a major blessing, as those teacher books are HEAVY!

Here is what the school stuff looks like now. All organized and beautiful. Ahhh...



These are our School Rules and Daily Schedule. We go over them every day before starting, and also have a prayer time together. (They do their own personal devotions before coming to the breakfast table. This has worked out very well.)



I have the table set with their breakfast choices before they get there. This has helped immensely with getting them going in the morning. It's faster, and clean up is easier when I'm in charge.



This is my planning book. It's a regular lesson plan book, but instead of putting what we're doing for the day, I went through all the teacher resource CDs and wrote down for each class the materials (including copied pages, etc.) they would need. Now I have at a glance, the whole year. It was very time consuming, but SO worth it!



This is Snow White's math folder. Each day I put the manpulatives and papers, etc. that she needs. Then she brings it back to me when she's done, and I put it all away...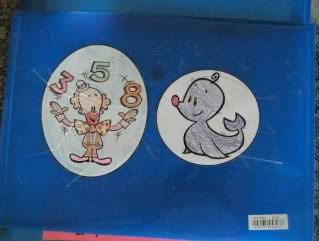 ...here. BJU has a crazy amount of manipulatives for math. While they make the lessons fun, they make me crazy!! This year I decided that I would use a sturdy folder (with a snap!) to keep all their stuff straight.



Inside each folder are Ziploc bags which are labeled with what's inside. And in those bags are the tiny paper holders (you know the black ones with the silver arms) to keep the categories within the bag separated. It helps, and saves time.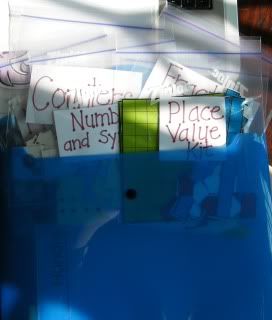 These folders are where I place the copies they need for their classes for each day. They get the folder for the day and everything they need is in there. That saves time too, instead of stopping every class and copying things as we need them. (Getting up from the table makes people easily distracted...)



So that's it! We're in the groove, feeling good, and really enjoying school. Tomorrow is a real field trip to a cooking class! I'll be sure to take lots of pics, and post them.

You know how I do.

Have a great day!