This school year feels different from last year. I think a lot of that has to do with the fact that I had my materials early, and was able to get organized and prepare without the pressure of "getting started already" because Thanksgiving is two weeks away.

And that's a good feeling.

Yesterday was our first official day of school. We started with a special breakfast (pancakes and sausage). Then we were reminded about doing our chores quickly. (Several times we were reminded.) After that, when breakfast was over, we sat down and wrote out our daily schedule, and our list of rules for our school.

That was a very important part of the day, and helped set the tone for our school. We talked about why these rules are important, and why "Not Kicking" falls under "Have a good attitude" and "Be polite".

So, needless to say we covered everything we could think of.

After we had our rules established, it was time to head out on a field trip! We went to the mall and picked out all new crayons and colored pencils, and pencil boxes, and glue sticks, and writing pencils. It was a fun time.

And then the power went out.

Ugh. That wasn't so fun. You can't leave the parking lot when the power is out, because the gates (like in a hospital parking lot) won't go up. We have to pay for parking here, so you can't leave until the machines are working. And all the shops you want to look in are closed because they can't do business without electricity.

So we went to the pet shop and played with the puppies. (OH MY WORD THEY ARE SO CUTE!) I was almost tempted to buy the little Jack Russel mix. He was a peanut! And he fit in the palm of my hand. So sweet!

We waited an hour and a half for the power to come back on, cheered as a collective group of shoppers (it's actually really odd to hear that in a public place) and then headed into the Christian book store to look for devotional books for the girls. And guess what? All the kids' books were fifty percent off! So we got a Bible dictionary for the girls too. It's cool! And some family puzzle books with word searches and thinking games related to Bible stories. Fun!

When we got home from our errands field trip, we sat down and made labels for our pencil boxes. That was fun, and the girls did a good job. I know it's hard to see, but trust me- they're cute!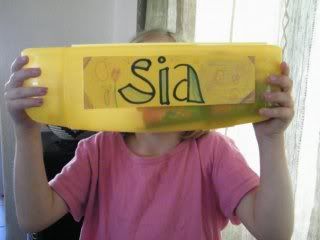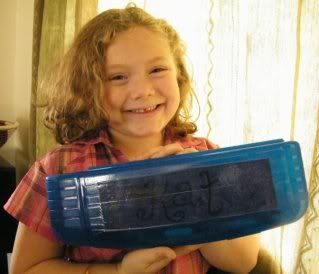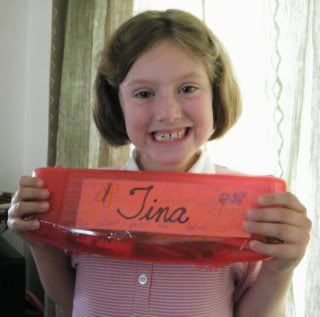 Anyhoona, we took school pictures too. They turned out cute. The girls all wanted to make their own pose after they did the obligatory finger-showing-what-grade-they're-in pics for Mom. Well, here they are!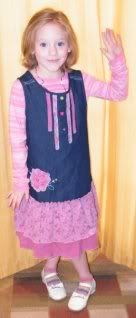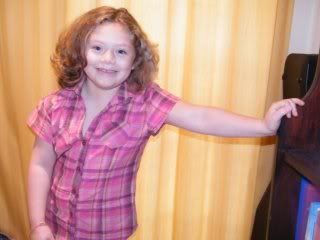 It was a great first day, even though the girls were disappointed they didn't get to actually do work. But we started that this morning. And I must say that everyone has pulled it together, and we were done with breakfast and actually doing work by 8:30.

I think it's gonna be a great year!