Friday morning we went to a cooking class hosted by a woman who goes to the same church as our friends. She also teaches "big people" cooking courses, which last six weeks. She does this from her lovely home. Today was a test run for a kids' class, and we were happy to be some of the ones to get to try it out.

There were six girls total, and they were all friendly and very sweet. Here they are (Except for the second Caitlin. But Dad dropped her off, so she was late...):

Now, when the woman who taught the class (Denise) asked for my kids' names, I thought it was just so she would be familiar with them. I had no idea she was planning to make those adorable chef hats, and give the girls aprons to wear. It was precious! And they looked so official-like.

They made several things today. The first was to roll and cut out gingerbread cookies. Then they made fruit kebabs, french toast, decorated the baked cookies, and made hamburgers. It was a busy time! But they had a blast, and I got some great pics. It's our first official field trip of the year. Enjoy!


Sleeping Beauty proving how much she's like her Mama...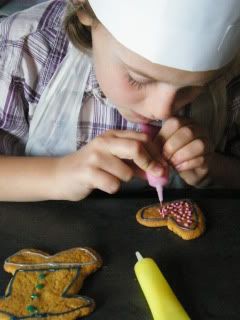 Cinderella chopping fresh parsley.

Snow White making yet another goofy face. (I can't post them all...)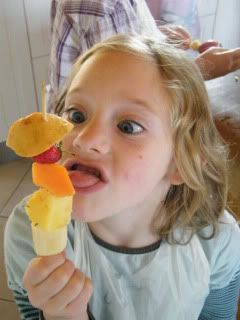 Sleeping Beauty pronouncing their
enormous
burgers good.
Snow White cutting out a heart to make into french toast.