Cake by Elea Wade Craig, via
Candy Land Crafts
I love
Kadie's Bakery Supplies
here in SA. They have a lot of products available to help making cake decorating fun and easy! There are so many pans, cutters, sugars, glitters, etc. that one's head can spin while there. And I could
easily
spend all the money saved for my kids' college educations on cool stuff I find!
Last time I was there, the fondant was looking at me. I mean,
intensely gazing
at me. Like it wanted to pick a fight. I stared right back, then suddenly found myself reaching up and throwing some of the colors into my basket. I didn't really know what I was going to do with it. I surely
wasn't
going to cover a whole cake with it. Heaven forbid!
When I got it home, I put it in my baking cupboard and left it alone. (Well really I put it in my fridge until I found out you're not supposed to do that. Then I moved it to the cupboard.) It stayed there for a few days, until I got up enough courage to try it o
ut.
I scoured the internet in the days prior to using it to try and find a good website that would show me all the wonderful things I could do with this fondant. I was really disappointed. There aren't many websites. One that I did find that shows how to make a fondant rose is
Sugarcraft.com
. This is their fondant rose on the right. Isn't it beautiful? I have no idea how they get the petals so thin, and I was disappointed there weren't more lessons. A beginner like me really needs to know the basics.
So, I will share with you the basics of fondant. I didn't make the one I used. Remember, I bought it from the bakery shop. And I will admit it doesn't taste nice. (I ate one petal from a tiny flower.) I don't like it at all.
If
When I try to make my own, I will try
this
recipe first. Sounds good with white chocolate in it, doesn't it?
Fondant
(follow the recipe in this link through step five) is a paste made from sugar syrup or marshmellows, and powdered sugar. After the ingredients (which vary depending on the recipe you use) have boiled, you stir and scrape and knead with powdered sugar as it cools. The paste (that's kinda like playdough) that results can then be used to roll and cut out shapes, hand shape items, or drape over a frosted cake for a smooth finish.
When the fondant is cool, you can add gel colors to make it the shade you want. You
never
want to use liquid color, as that will make the sugar in the fondant melt, and you'll be left with a sticky mess. Then you'll be frustrated because it will be ruined before you ever begin.
You can find gel food colors at candy/cake supply stores, or maybe from your grocery store. It's also important to note that you'll want to cover your counter with baking paper, and wear gloves if you don't want your hands stained.
Anyhoona, let's get on to the
using it
, shall we? This is the fun part. (At least it was for me.)
The first thing I did was go to the sucarcraft website, and looked at their rose several times. I didn't have my computer in the kitchen, so I basically made it up as I went along, though the directions were pretty simple.. The first step is to pinch off a chunk of fondant in the desired color. If it feels a little stiff, then roll it between your hands for a minute.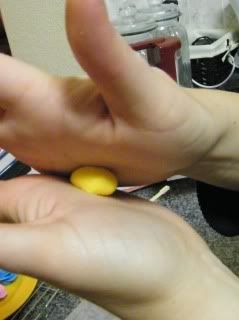 Then you'll have to let it sit and cool down a bit, or it will be too sticky.
When it feels ready, pinch off a smaller piece of fondant to form a cone.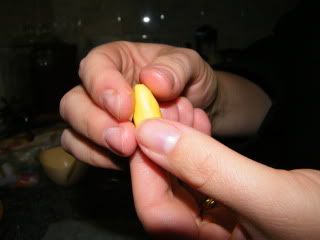 Pinch off another piece and squish it around in your fingers until it looks a little like a flower petal. If it feels sticky to the touch, dip your fingers into some powdered sugar and rub it around a little on the tips of your fingers. It should be easier to use after that.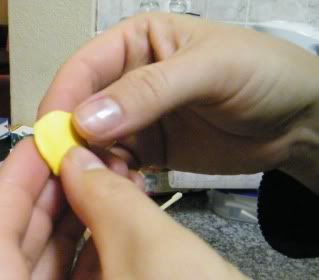 Then you put your petal along the side of your cone, and wrap it around. This forms the center of your flower. The wider you make the petal, the father it wraps around the cone.
Continue pinching off fondant and making petals, attaching them to the sides of the growing flower, alternating them around the sides so they overlap one another. You can pull the tops slightly away from the center and shape them as you go along. Your petals will have to be wider as you go as well, or they won't wrap far enough around the flower and will look goofy.
You will notice that the base of the flower seems to be getting taller and taller. (At least mine did!) I didn't want my flowers to sit two inches off the cake, so I took my butter knife and sliced a good bit off the bottom. I think this also helps to "weld" the petals together. Then I bumped the bottom a few times with the flat side of the knife to make them sit level.
And there you have it!
Here are some of the finished ones I made. I know the orange plate isn't the best choice for a background, but it's the only plain color plate I have. The baking paper and the counter wouldn't let the camera focus properly. So just pretend the orange doesn't clash too terribly, ok? Thanks!
Now I know you're wondering what I'm going to do with these, and the answer is: I don't know! I need to make some cupcakes or something to stick them on. Maybe I'll do that for Bible Club this Friday and give them away to the winning team. Who knows...but I will NOT eat them myself.
They don't taste good, remember? :0) Hope you learned something new!