I wasn't sure I should post this today, since last night I ate WAY too much pizza, and even had a little Devil in a Jar, so talking about food right now is probably not a wise thing to do.

But we'll press on together, ok?

I have seen many many times on the 'net and in stores, these beautiful, smoothly frosted cookies, and I thought they were made with frosting only bakeries could get. I decided I wanted to try and make some for myself, so I did a little web surfing. Turns out they are frosted with royal icing, which you thin and use to "flood" a cookie.

Then with a little more searching I found a blog with a recipe and encouraging words, and jumped right in!

The first step, of course, is to make the cookies.

AMISH SUGAR COOKIES
1 cup granulated sugar
1 cup butter
1 cup confectioners' sugar
1 cup vegetable oil
2 eggs
4 1/2 cups flour (Plus extra for rolling)
1 teaspoon cream of tartar
1 teaspoon baking soda
1 teaspoon vanilla extract

Instructions:
1. Combine sugar, butter, confectioners' sugar and cooking oil and beat well.
2. Add eggs and beat again.
3. Add flour, baking soda, cream of tartar and vanilla extract. Mix well.
4. Roll 1/4 to 1/3 inch thick and cut into shapes. (The dough will be VERY soft, but should not stick to your hands. If it does, add a little more flour.)
5. Bake at 375 degrees F for 10 minutes, being very careful not to overbake. DO NOT LET THEM BROWN. Cool completely before frosting. (makes about 60 medium size cookies)

Now, I recommend you do it differently than I did. I made the cookies and did all the frosting and decorating in one day. Next time, I'll make the cookies ahead (like a day or two) so I can just grab them and frost when I feel like it.

If you already have your cookies made, then grab the following ingredients and whip up a batch of royal icing.
2 egg whites (pasteurized or powdered equivalent)
2 lb icing sugar sifted (Not all may be used)
1 tsp lemon juice
Gel food colors (if desired)
Large bowl
Hand-held mixer
Cling film

1. Put your egg whites and lemon juice in a medium size mixing bowl. Whip them together a bit to let the lemon juice "cook" the egg whites. (about 1 minute)

(I have to be honest and say I used regular old egg whites. We can't get either pasteurized or powdered here, and when I spoke to the woman at the bakery supply shop, she looked at me weird when I told her I was afraid of the raw egg in the icing. She said the lemon juice cooks it. None of us are dead yet, so I believe her.)

2. Add a cup of powdered sugar and mix well. (Also add your gel color if using it.) Keep adding sugar, 1/2 C at a time, until soft peaks are formed. (soft peaks mean that when you pull the mixer out of the bowl, the frosting will curve at the top like perfect little Dairy Queen ice cream cones.

Now at this point, you will want to fill a pastry bag (or a Ziploc bag with the corner carefully snipped) and pipe an outline around the edges of your cookies. I used the smallest tip I had that is for writing. It's not as easy as it sounds! For me, when I held the bag about 1/2 inch from the surface of the cookie, the icing kinda went its own way instead of where I wanted it, and made the lines a wee bit wiggly. Holding it closer to the surface of the cookie helped a lot.

You want to try and be careful with this part, as it dictates where the "flooded" icing will go, and affects the overall look of the frosted cookie. So, if it doesn't look right, just scrape it off and try it again. Let them dry for about ten minutes.

When all your outlines are piped, get back to the mixing bowl and:

1. add some more sugar (by tablespoons this time) until you get stiff peaks. This means the icing will stick straight up in the air (think Don King's hair) when you lift the beaters from the bowl. There should be no curve whatsoever, and it should be pretty hard to mix.

2. Take another small bowl and add a heap of the stiff icing to it. Water it own a little at a time (by teaspoons now) until it is runny, but not like water. It should look (if it's white) like Elmer's Glue.

3. Hold a cookie carefully by the edges, take a tablespoon of your now-thinned icing, and pour it inside the piped outline. It may take a couple spoonfuls, depending on the size of your cookie. I also used the spoon to kinda push the icing around and make sure it went all the way to the piped edge.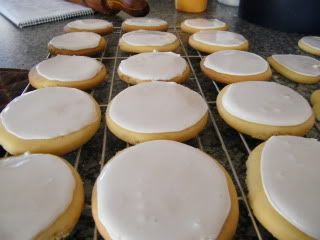 You don't want to use too much at once, as it drips over the side and defeats the purpose of the piped outline. This process took a little longer than I anticipated, so be sure you're not in a hurry to get them done.

4. Take a pin, (sterilized of course) and pop any little air bubbles that surface. This may seem silly, but if you're going to use edible markers to decorate, the dried air bubbles will collapse while you're writing and make an unattractive dent in your otherwise smooth surface. Don't ask me how I know that.

If you want to top them with sprinkles or edible glitter, this is the time to do it, as they will not adhere to the dry cookies. If using the edible glitter or luster dust, wait until the cookies are dry before you try to shake off the excess.

5. Let them dry for quite a while. I flooded them, then made dinner and cleaned up. Then I went to the doctor to check my lungs (have I mentioned we've had the creeping crud around here?) and then worked on them when I got home. They had dried for about four hours. Some people prefer to leave them overnight. Your preference. Just make sure they are totally dry.

At this point there are a lot of options for decorating. If you want to use a soft royal icing (which was the original icing we used for the piping), feel free. You can pipe all kinds of things onto them. I am amazed at some people's handiwork. Your only limitation is your imagination!

Well, and a lack of talent. But let's not think on that.

I didn't pipe stuff on my cookies though. I had a friend bring me edible markers to use for cookie and cake decorating. You can draw right on them! I thought it was going to be awesome, and the cookies would turn out perfect.

Things always turn out perfect in my mind.

Anyhoona, I grabbed a cookie and started right in. I only made four shapes for the cookies, since I was making them for our church's one year anniversary. I used flower, circle, star, and heart shapes.

While they turned out cute, I will try piping on some designs next time. Or maybe it was the fact that I used plain white that made them look a little blah. Or it could be that I am just too critical of my first attempt. Here are the pics of what I created.

I wish I had more colors to choose from. That would help a lot. Then I could fill in with a lighter color, and outline with a darker one. Well, it was a first time, and I learned a lot from the whole experience. I think the next batch I make will use three set colors of royal icing. That way I can experiment a little more, and still use the markers for details, etc.

I had just enough circle ones left to try and make personalized cookies of my family. They are pretty cute, but I'm not sure who those people are. The Prince is definitely not claiming his. And the kids are WAY cuter in real life. I surprised everyone with them for breakfast. (With oranges too. We were in a hurry so we wouldn't be late for church.)

My next venture into sugar creations is colored fondant. I'm a little nervous about it, but there is some good info on the web. We'll see what I can come up with. I am hoping to make flowers. Yeah, hoping.

Have you ever used royal icing? Or fondant? I would love to know your secrets!