I have been looking for a good way to get my kids to do their chores consistently, and without me necessarily having to breathe down their necks all the time. I tried making a laminated chart where they could mark off the things they'd finished with a dry erase marker, and we could clean it off at the end of the week. The problem is the marker was never around when they actually did their stuff, and so countless minutes were wasted looking for it. Not to mention the marker that didn't make it onto the chart, but to the surrounding wall.

That idea has been pitched.

I also signed them up for an online program where if they do their chores they earn e-dollars or something to dress up an online animal friend. They never even got to use it because internet here is precious, and expensive, and I decided that it would be too much.

That idea has been pitched.

Recently Brenda shared her new ideas for getting her girls to do their chores. I loved reading her ideas, and her enthusiasm. I understand how it will work for her, but I wasn't sure how that would work for me. Our doors don't have regular knobs. They have push-down handles. So I kept brainstorming, and came up with a new idea.

My girls love sticky-tack, and they love moving things around, so I've decided they will have their chores on cards that will be laminated. The cards have their picture on it, and a specific chore. The cards will be stuck to the front of their bedroom doors with sticky tack every morning. When they have completed a chore, they are to move the card to the back of their door.

There are also chores they take turns doing, depending on the day of the week. These will go on the front of the girl's door the day of, and when they have finished it, they will move it to the next sister's door. It's a rotating kind of thing. We'll see how this works. For me, it's about ease. Since the cards have their pictures on them with the chore, I'll know WHO has done their chores, and exactly WHAT they've done with a quick glance.

I haven't shared all of the cards because that's just overload. Their chores are: Get dressed, brush your hair, brush your teeth, put away your laundry, read your Bible, Make your bed. Their shared chores are: Set the table, clear the table, and dust. (They love dusting!)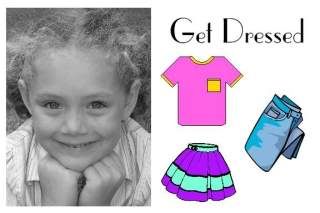 I made these in Paint.NET, using my favorite picture of each princess, and saved them as jpeg files. Now I can take them to my local photo printing place and have them printed and laminated all in one shot. It will be cheap, and should last until they don't need the reminder anymore.

What do you think? How long until this idea gets pitched? I think it's a keeper.