Mabula is not a very far drive from our house. It took us a little over two hours to get there, which is nothing when you think of how far we drove to get to Durban. (Over seven hours!) It was nice to be alone with the Prince on this drive, but I was glad it wasn't too long. I tend to fall asleep if I'm in the car too long. And I didn't want to miss anything.

Ok- I didn't want my curly hair to be all smashed and flattened in one spot upon arrival at the schmancy place.

The rest of this post will be told in pictures. Well, and commentary. I just can't help myself. Hope you don't mind. The next few days' worth of posts will be like this too, so if you're already bored and/or annoyed, better tune out now.

The Lord really blessed us with perfect weather for the trip. I thought for sure it was going to be more like winter, so I packed mostly turtlenecks and sweaters. Wow, was I wrong. The afternoons were clear, the sun was HOT, and it was just gorgeous. See?

This is the welcome sign.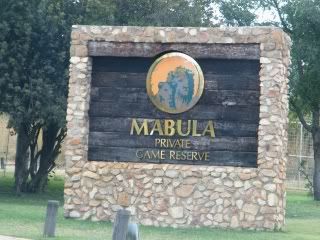 Then we drove for a LONG time on a totally dirt road, and I thought for sure we were going to get lost in the bush somewhere, but that's really not possible since there were little signs every now and again. And no, they didn't say anything like: "Death by Lions, Turn Left" or "Elephant Trampling, Stay to the Right". They just said "No Entry". Which is practical, but not very dramatic.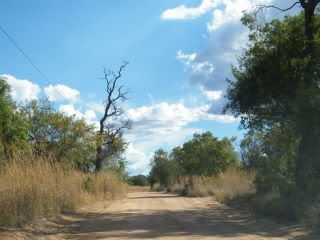 Mabula is a
very
beautiful game park. The main reception area, the grounds, the suite where we stayed- all fantastic. Top quality and high class. This was proven by them welcoming us at registration with fruit juice in those fancy shmancy glasses that look like champagne. (I asked to make sure there was no alcohol, don't worry.) I felt like the Prince should have called me 'Muffy' all weekend. And I could have called him 'Chase'.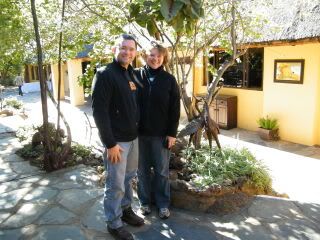 See the little
duiker
on the rock?
We were then shown where our suite was, and I have to admit that, from the outside, I was not very impressed. They are all
thatch
buildings, and they didn't look super fancy or anything. But
inside
...totally different story. Wow! (scroll down in the link to see pics.)
Burkina Faso
. He was very informative, and knew a lot about the animals
and
plants in the region. Great stuff. And he knows how to use the rifle on the jeep: that's important.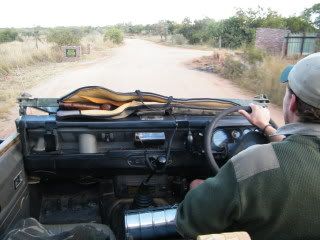 So, while we were on game drives, here are some of God's wonderful creation we were able to take in. Some of it is truly breathtaking.
When we got back (about three hours later) it was time to freshen up, then head to dinner. We went to our room where we found the tub had been filled with hot water, and purple lilies were floating on the top. There was also a basket with candy bars in it. It was gorgeous. Our bed had been turned down and little chocolates had been put on our pillows. Yum! We relaxed for a bit, watched a little tv (news), and then went to dinner.
The restaurant is a huge room with a fireplace in the center, and many tables surrounding it. The food is all buffet, and all great. The decor in the restaurant is pretty as well. There are waitresses waiting to get your drink orders or bring you napkins, or whatever. There are also helpful men manning the buffets. They tell you about the dishes they're serving, and they help if you need it.
After a fabulous dinner (lots of Indian food, kudu stew, potatoes, salads, other meats, and a small dessert) and the great entertainment by the Tswana dancers, it was time to retire for the evening. I was ready, as it had been a FULL day. After settling in to warm jammies, I came out of the bathroom to find a little gift bag on my pillow. The Prince had secretly gone to the
Gecko Mine
near us (literally seven minutes away) and purchased me this little beauty for an anniversary present.
I was shocked, to say the least. He is very frugal (which is a good thing) and I never suspected anything like this. It's topaz, set in silver, and the middle (I think) is just a sparkly stone, not a diamond. But I could be wrong. Isn't it beautiful? And it fits perfectly. He's so sweet!
We slept well, (although I was paranoid we would miss the morning game drive, so I woke up a half-bazillion times to see if the sun was up yet or not.) and then headed to the reception area for another game drive. Stunning!
After another three hours in the jeep, it was time for breakfast. More buffet, custom-order eggs, and juices, fruits, coffee, tea etc. After that we checked out, did a little wandering around, and took some silly photos.
This is the Prince pretending to be a drummer like the man at the restaurant the night before...
And this is him protecting me from the warrior statue. He said he didn't like the way the guy was looking at me. Ha!
The next installment (when I get the time) will be the Elephant Sanctuary. Great time, but I got WAY dirtier than I anticipated. Wow...you'll just have to wait and see...and if you want to see all the pictures I uploaded to Photobucket, here's the
link
for that. Enjoy!