This week we are supposed to post pictures of our success, things that have helped us reach our goals (or helped us stay on track), or whatever pictures you want to share if you can. Now, Brenda's post is obviously about what hasn't been helpful for her. I can relate to that post, I'll tell ya. A few weeks ago there, I threw all caution to the wind and ate how I wanted. And I felt gross. I wanted to get back to the gym, but didn't.

The tide turned when the Prince left for Deaf Camp. That week I only ate when I was hungry (since I wasn't cooking big meals) and a lot changed. I felt better, looked thinner, and got myself back on track. With the Lord's help, I won't fall so far off the wagon again.

Today, I am posting a recent picture of myself, since I haven't done that in ages. Here it is.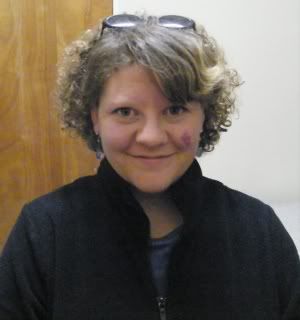 And here's the last picture I posted of myself for a Fitness Friday shindig.

See a difference? I hope so! It's been months since I've posted a picture. This was the last one that showed my face straight on, and not from looking up. (Which is totally cheating to look thinner, you know.)

And this is a picture of me and two of my girls at the zoo in January of this year.

I know what you're thinking and I agree- I need to let my hair grow out. And I'm trying, really.

There are my photos. Something else I wanted to share with you, is what I've done to make meal organization more do-able. Maybe this kind of system will work for you, or maybe you already do something that works. I think most women have good intentions, but never implement anything really useful.

So, if you follow this link right here, it will take you to another post where it's all explained so beautifully. (The relevant part for you is near the bottom of that post, so scroll down.) I didn't really follow this for a while, and let me tell you- planning meals is a chore if you don't have a system in place. Hope it works for you!

Can't wait to see what everyone else has to share over at Brenda's today. Happy weekend!