This was an experience I won't soon forget.
After our fantastic stay at Mabula Game Lodge, I didn't think anything would be as nice. It was just so great, it was going to be hard to top. We left Mabula and headed to the Elephant Sanctuary located in Hartebeespoort, SA. The drive was a little over two hours. The sights were magnificent, as there was a sunflower farm on the way, which grew the huge blossoms on either side of the road. I stopped for a few photos. Here's one.
They went on in both directions for at least a couple miles. It was beautiful. On the other side of the highway they were back-dropped by the Magaliesburg Mountains.
When we arrived at the Elephant Sanctuary, the man at the front gate hopped in our car with us, and showed us where the room was. It was another suite, but I thought nothing could be nicer than Mabula! Especially when I saw the condition of the road to get to our room, I was a little worried. But I need not have been!
This is the bed area. I love the side table lamps. So creative! And they look even prettier when it's night outside and the lights glow brighter. Very nice. And the bed had a LOT of pillows on it. Nice and comfy!
This is the double shower which looks out onto a private garden. That was a bit weird at first; so much so that I showered after dark, and didn't turn on the light inside. I could see fine from the lights in our room being on, the door to the shower having frosted glass panels, so it was fine. I felt a little weird turning on the light and having the glass turn black so I couldn't see out but others could see in, should they happen to sneak into our garden.
Anyhoona…the rest of the room was very nice, and you can see ALL the pictures in the album
here
if you want.
After we dropped off our stuff, it was time to head down to the main area of the sanctuary. Linos (LEE-nos), the guy from the front gate, jumped back into our car and lead us to check in. The sanctuary itself is very nicely set up. The reception area has a lounge (living room) with leather couches and a TV for people who want that, and there's a gift shop just across the way full of handmade items, like jewelry. There are necklaces, earrings, and bracelets. All of them have something to do with elephants. There are also hats, kids' clothing, and other items with the Elephant Sanctuary embedded on them somehow. It was a nice store.
We had about an hour to sit and watch the elephants from the observation deck and drink coffee or tea if we wanted. While we were waiting, some meerkats came by. The Sanctuary feeds them every day at 4 or 4:30, so they were all sniffing around, waiting for food. This is how close they were to me.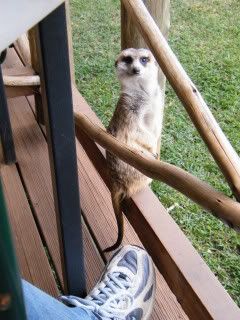 They make an odd chirping, gruff sound when they're hungry, or when they want another meerkat to stay away. It's definitely a warning sound, and they act vicious when being fed. (They ate raw chicken wings.) We watched their antics for a while, and also the elephants. There are two young bulls who are naughty, and are called 'The Hooligans'. They do fight quite a bit, and I got some photos of them pushing each other around.
I know it looks like they're hugging and being sweet, but they were butting, and shoving, and misbehaving.
Around 5 PM our guide Ignatius (ig-NAY-shus) came for us, to go on a hike up the mountain. And when I say mountain, I mean it. When we looked at it from where we were on the ground, it didn't look so big, but once we got up there, WHOA! It was way higher than I thought. I handed him my camera and asked if he would take photos of us. He said he'd be our paparazzi. And he wasn't kidding! He took so many nice photos! Here are a few of the climb.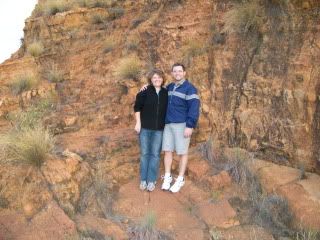 Yes, our feet ARE slanted, because we were standing on a rock that was tipping downward. Thank goodness I started doing Fitness Friday! The climb wasn't hard for me at all, when a few months ago I would've been struggling for breath. (Asthma, you know.) But the effects of it are long gone.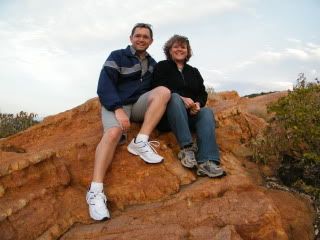 The Prince being goofy again. I love being married to him.
When we returned from the hike, the table was set for two in a boma- an outside fire pit area. This was especially romantic, as we were the only two there for dinner that night! So, Ignatius acted as our host and served our food, and, of course, took too many pictures. :0) He was a really nice guy to do that for us. So here are some of us around the boma at dinner.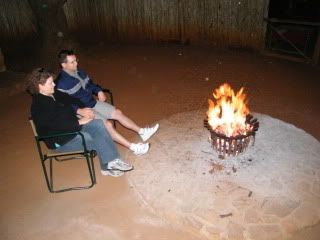 After dinner we moved over to the fire to warm our toes. We were talking, and I don't know what it is about a fire (maybe all those years of church camp?) but it makes me want to sing. I know one song in Tswana, so I shared that with Ignatius (since the Prince already knows it, and can't hear). Then Ignatius ran back to his room and grabbed his homemade instrument. I don't know exactly how to describe it for you, so here is a picture.
The black part on the outside looks like a large gourd, with the edge ringed in bottle caps. Inside he places a small hand "piano" which is made up of wood for the base, and metal 'fingers' that are curved up on the ends, so you almost pluck them as you pull down. I know that probably doesn't make any sense, but it's the best I can do to describe it! I have a video, which you can't see, but you can hear. The sound was actually quite lovely.
When we returned to our room later, the bed was turned down and chocolates awaited us. Yum!!
Now, for the elephants.
This is me getting a "kiss" from Mvuso, one of the young bulls.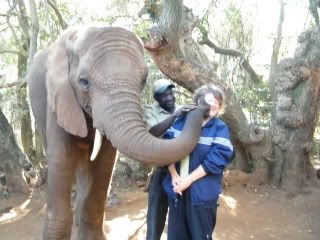 This is me after the kiss. Ew. Even though I am smiling, it was stinky, and I would NOT want to do it again! At least my teeth look clean...

The Elephant Sanctuary is a great place to learn all about elephants. All the guides and trainers are well informed and share with you anything you want to know. The only part I could do without was the talk of elephant evolution. They spent WAY too much time on that. They could mention there's a chart at the bottom of the display for those interested, but I felt it unnecessary to belabor the point. It was repetitive, and all speculation. (As anyone who knows me will know what my stand on evolution is.)
A couple more photos: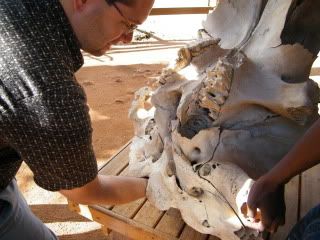 I realize I haven't shared much information about elephants, but you can read all about them
here
. I basically wanted to show our experiences. We got to brush them, feed them, walk with them (holding their trunks which are quite dirty inside), get kissed, stroke them, pose with them, and learn all about them.
If you're ever in SA and you decide to visit the Elephant Sanctuary, I don't recommend wearing your best clothes, as you WILL get dirty. So, dress in something you don't mind getting stained, and just have a good time. Elephants are fascinating animals. I have a lot of videos that show their strength and stuff, and I wish I could post them, but it never seems to work. Anyone want to help?