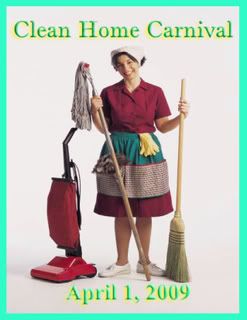 Hi everyone! Welcome to JulieMom's first ever Clean Home Carnival! I'm glad you've decided to stop in, whether you're posting something or not. It's good for us to see what others are doing and gain some motivation to do it ourselves! And when we cheer each other on, it only makes the victory over mess and clutter that much sweeter.

I know at times we can all get overwhelmed with things in life, and we let certain areas (or the whole house!) slide in the process. But we shouldn't stay that way. It's easier said than done for some people. However...

I am an organized person by nature. I am the one my friends call (well, before we moved across the ocean) to come and help them clean out their garages, or attics, or play rooms. Right WendyMom? It's just natural for me to organize. I even (should I admit this?) re-stack and organize the dishes before I wash them. To me, if the sink is full, it should at least look neat! And, my internet bookmarks are all in folders, alphabetized, and the list of items within each folder alphabetized. I know. I can't help it!

Well, there wasn't a huge area in my house that was dying to be cleaned, because I had determined several weeks ago that I was going to do the things God intended me to do, and I was going to do them well. This included, but was not limited to, keeping my home clean, making it a place the Prince wanted to be. After all, he is a busy man and it's only right he not sigh every time he comes in the door because he has to step over something again.

So- I looked around the house and thought "What can I do better? What areas would benefit from a little face lift?" And I found my answers: the fridge, the chest freezer, and cabinets.


Let's get right into it ok? My fridge was dirty. Unorganized.

I don't mean a little crumbs here and there, I mean stains in the drawers- from what I could not tell you, and stains
under
the drawers. Ew.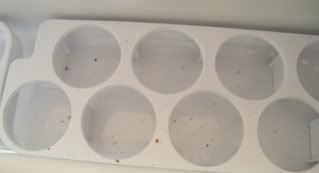 This is my little vacuum. Love that thing.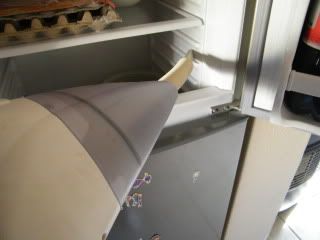 Sleeping Beauty, Snow White and I worked for OVER AN HOUR cleaning out this fridge. We pulled out the shelves, scrubbed them, wiped out every nook and cranny with fridge wipies, and now-
now
, it is a masterpiece. Voila!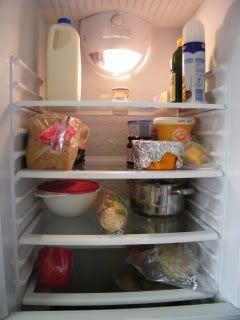 [tears up] Isn't it a thing of beauty? And I vow it will stay this way. So much easier to maintain than haul everything out once in a blue moon and give it a good scrub.
Next on my list was my arch nemesis, the chest freezer. Do you own one of these? It was necessary here because when we moved, the exchange rate was
so bad
that it was all we could afford. (Refrigerators are usually a fridge on top and freezer on the bottom. Problem is, THAT'S TOO SMALL
for a family of five.
So we bought a fridge all the way down and I am saving up for its freezer twin.
)

Anyway, those things can grow
massive
, and I mean MASSIVE amounts of ice on the sides. Did you know that? It's gross. We also bought a quarter of a cow before, because it's cheaper, and I didn't know I should transfer the meat to other bags. I also didn't know to tell them
I don't want the bones and fat. EW!
So my chest freezer was growing ice like nobody's business, and there was dried, frozen blood in the bottom of it because I didn't know any better. And apparently we don't eat frozen vegetables much. Because once I started cleaning that baby out, I found no less than five bags half used and sorta open inside. EW! No more!
Here is what it looks like all cleaned out. The new bins inside are to organize the meat we are picking up on Thursday. That way, should something leak, it only gets in the bin- which is MUCH easier to clean. And the chicken will be in one place, the beef in another, etc. Even different cuts of beef will be in different bins. (I have yet to purchase all the bins I need.) Doesn't it look like a fake, showroom freezer? Oh yeah!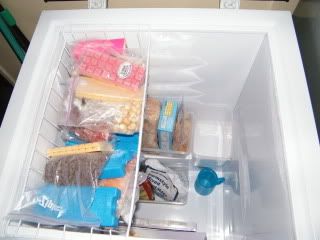 Not one trace of ice growth or blood inside. Go me!
The last areas to organize were the hall closet, a corner of the kitchen counter, and under the kitchen sink. These are areas that I use every day, and the way things were made me crazy.

The hall closet had a shelf FULL of odds and ends we use, but not daily. So I decided to put them in a basket. Things used to fall over when we pulled something from the back, or when the kids got a band-aid. Now things stay in place. And it looks nice. The basket on the top shelf holds all our wash cloths. MUCH better.


This pesky corner of the kitchen is home to all the chargers for cell phones, and the adapters we need to plug in various things. They used to just be in a pile there, and we had to sort through them before finding what we needed. It looked terrible, and made me nuts. With the addition of a little basket, they are no longer an eye sore!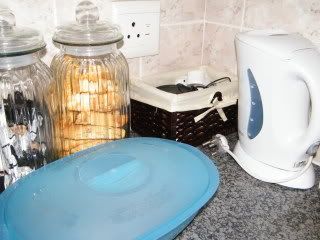 And yes, that's one of the biscotti recipes I'll be sharing soon.
The last area to tackle was under the kitchen sink. I have a lot of rags I use to clean with, and they were just piled up under there, and would get knocked over, or other things placed on top of them, because there was no real order. I also had a bunch of cleaning supplies on the bottom shelf that acted like the stuff in the hall closet. Every time I got something out, something
else
would fall over. Not fun! Now, they are all contained and look great!
My whole house is now organized. There isn't one area that I feel is out of control, including the kids' closets. It's just become routine for me to make inspection every now and then, and if theirs is out of control, there are consequences. (Nothing too harsh though, don't worry.)
Baskets are my favorite thing to use to organize. I'm sure you noticed. Over all, I think I've spent about eighty dollars on them. But some are
huge
, and others are in the pantry and kitchen cupboards that aren't show in this post. Those are
here
. It's worth the investment. I like the look of wicker, but if you don't mind plastic, then go for it! The dollar store is FULL of little plastic bins that will help keep your clutter at bay.
The best advice I can give you to help you get and stay organized is :
Don't be afraid to throw something away.
If it's something you didn't even know you had until you cleaned and found it under the bed, or shoved in the back of a closet, you don't need it. Donate it or pitch it. Holding onto useless (meaning you don't use it- not that it couldn't be used) stuff not only makes your home a mess, it encourages attachment to
things
. That can be dangerous. Learn to let go, and trust me: it gets easier the more you do it.
Now it's your turn. Post to your blog about what you've been cleaning, (or what you WANT to clean) then right click the title of your post to copy the link location, then head back here and add your name in the box below. I can't wait to see your house!