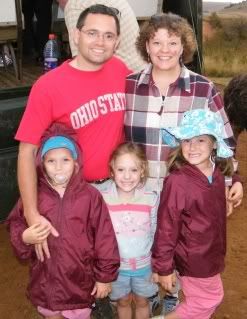 We spent an overnight at the rhino and lion park on Thursday. It was really nice. We had a game drive and everything. It wasn't as good as the big parks like Kruger where they have elephants and giraffes and stuff, but it was good. The cabins were nice. Reminded me of a cabin you'd see out in the boonies in Tennessee or somewhere. Know what I mean? All knotty pine and stuff.

There were rhino and lions in the park. Are you surprised? There were also springbok, (SA's official animal and mascot for the rugby team) ugly warthogs, and various ugly bird life. The highlight of the day, for sure, was getting to play with the lion cubs (for the girls) and getting to pet a real live cheetah (for me and the Prince).

Cinderella had one cub jump up on her back and chew her ponytail. That was fine until it tried to pull it off her head, so I had to come over and loosen its jaws. Of course I didn't think about what I was doing at the time, I just did it.

Snow White had one use her for a chew toy. She said it didn't hurt, but it wasn't letting go of her arm, so I bopped it on the nose (again, not thinking this was a LION) and it whined and scampered away. She had some teeth marks, but nothing broke the skin. It shook her up a bit. Although she wouldn't admit it, I could tell.

I guess the moral of the story is you DON'T mess with my kids- even if you're a lion.

So, here are some photos of the day. We had a blast. Friday morning we brought the American visitors to the Flea Market in Hartebeespoort, and they all found some nice stuff for good prices. Of course, part of the fun (for others, not me) is the negotiating. I feel like these people are already so poor, I'm not going to barter for a better price.

Anyway, enough with the chatter. Here are some photos. For real this time. Here they come...