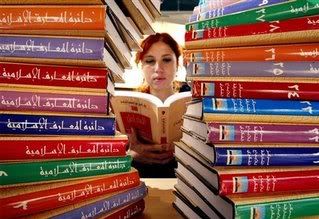 No, this isn't me. I don't read Arabic.
I am an avid reader. I LOVE to read. It's one of my favorite activities. Winter is the best time of year to me, because I can snuggle up in my bed (or on the couch) with a blanket and a new group of people in the book I'm reading, and pass hours (when I get the chance) being somewhere else. And let's just clear up right now that reading is my after-the-kids-are-in-bed-and-everything-else-is-done activity. Something I do when it's just me and time.
There are very few authors that I would recommend to people. There just aren't that many well-written books out there that I think are worth passing on. However, I have read a few lately that I would say are worth mentioning, and are all by Christian authors.
The First is
The Debt
by Angela Hunt.
It's an excellent work of fiction that will really make you think. What would you do if you had kept a secret from your husband for the whole duration of your marriage, and now that he has a world-renown ministry, it comes back into your life in a real way? Things may not work out the way you think they ought, but this book was an excellent read.
The second is
Deep Blue
by Tom Morrisey.
This is an action/adventure that pairs a Christian man and his love of diving, with a young, unsaved girl who's on a mission to find an old, abandoned ship and the possible fortune that sunk with it. An excellent read, filled with interesting plot twists, and tales from the past linked with today. Very good.
The third is
Directed Verdict
by Randy Singer.
This book was captivating from the first page. As a missionary myself, I thought it scary of what could happen while you're on the field, should you become a target of muslim extremists. I love the real-ness of the characters, the true-to-life conversations, and the action involved. Plus, I always love a good cop/judge/adventure book.
The fourth is
The Trials of Kit Shannon
series by James Scott Bell.
Kit Shannon is a female lawyer in the early 1900s. (I like it already!) She's a feisty red head (though you'd never know it from the cover) and finds herself pulled into a case where she must use her ingenuity to get to the bottom of things. I love it that Kit is an unconventional woman, and the plot twists are engaging. I love this series!
And then there are all the books I've started writing that aren't even halfway finished, and that I would highly recommend if they ever do get finished. But they're not. So read these for now, and if I ever finish a book and need critiqued, I'll let you know.
And I also must admit that I DO very much, judge a book by its cover. I know I shouldn't. I know it's not nice to do that, but if a book can't afford good cover art, then is it worth reading? I'll never know, 'cause I'll never pick it up.
Anyhoona, enjoy these books and let me know if you've read any of them and what you thought. Have a great Wednesday!!