Can you see it? The one that is The Devil in a Jar?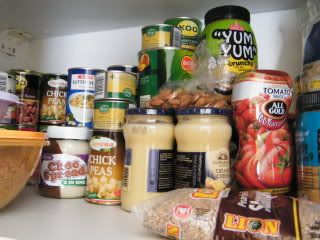 It will call to you when you are tucked away in your bed reading at night.

It whispers to you when you open the pantry to get supper things ready.

It hops off the shelf and lures the graham crackers to follow it onto the counter.

Then when you turn around....


There it is looking at you, waiting for you to eat it.
And eat you will. Because its incessant staring will make you uncomfortable.
And the fact that it's hissing your name makes you afraid the hubby will hear.
(Well,
your
hubby. Mine's Deaf, remember?)
So you eat it, intending just a little at first.
Just enough for one cracker.
But then you look and four are gone.
And you have succumbed to the gooey sweetness that is
Devil In a Jar
.
It's deadly.
Watch your back.
And in the States they sell it at Aldis.

Just in case you were wondering.