Titus 2:3-5 "The aged women likewise, that they be in behaviour as becometh holiness, not false accusers, not given to much wine, teachers of good things; That they may teach the young women to be sober, to love their husbands, to love their children, To be discreet, chaste, keepers at home, good, obedient to their own husbands, that the word of God be not blasphemed." (My emphasis added.)

I have been thinking a lot lately about how (un)organized my home is. Last week I re-did the pantry, wiping down shelves, etc. I also cleaned out drawers in my kitchen and scrubbed pots that were looking like they had been sorely neglected for, well let's just say a LONG time. Because they were.

And then a good friend of mine wrote me an email describing the state of affairs at her house. How my post, in conjunction with her falling over something that wasn't put away and hurting her ankle, was God's way of kicking her bum ever-so-subtly to get her own house in gear. See, they had been doing all kinds of activities out of the house for homeschool and what have you, so that her house had been sorely neglected. She was so convicted that she actually sent me photos of the rooms in her house and asked me if I would be her accountability to make sure things she promised to get done would be done in her time frame.

I, of course said yes, but it made me think a little more.

Sometimes we post things about how our house is dirty, or the laundry has piled up, or we haven't cooked a decent meal in long enough to post about. And people leave comments and say their house looks the same, or it happens to everyone, or don't worry about it that's the norm nowadays.

Shouldn't we want better?

If this were a sin issue (which I believe it is be if we're neglecting our God-given duties as keepers of our homes) then would we react in the same way? Wouldn't we encourage our sisters in Christ to do their utmost to avoid falling into that same behavior again?

I know it happens to all of us at times. But we shouldn't live in a state of disorganization and mess. I've seen the difference in my husband's attitude when my house is clean, and when it's dirty. I much prefer him relaxed and at peace when he's here because I've done my job as the keeper of my home, instead of hearing him sigh every time he turns around and sees something else out of place, or trips over something that's been ignored.

I have to think of the impact my homemaking has on my children as well. I have three daughters who will someday be keepers of their own homes. How do I want them trained? Do I want them to see that 'good enough' is enough? No, because I believe it's not.

And I know the whole "What do you want your kids to remember- that your house was spotless, or that you spent time with them?" mantra, but I don't buy into that. I'm not saying we should make our homes so clean we can't live there, but we CAN have clean homes by doing a little a day, and still make time for fun stuff with our kids.

In case you think I'm one of those women (how you would EVER get that impression from this blog I have no idea) whose house is always clean, may I inform you that the picture of the kitchen sink in the Keepin' it Real button is MY kitchen? Yeah, I know.

So, what am I going to do about it? I'm going to host the: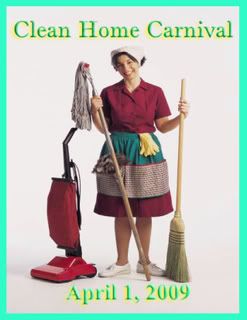 How can you get involved? Well, April 1 is usually April Fool's Day, but let's be wise women, and do something to show we are. Just work from now until April 1 to get any and all rooms and spaces in your house clean and organized. Take before and after photos if you can. Maybe you have one room that drives you nuts. Start there! Work as fast or as slow as you want, then post to your blog, and come here to add your link. Simple!

If we all work at encouraging one another (like we're doing with our physical temples), I know we can have clean homes and happy families. So, are you in? Grab the button from the sidebar, and pop it into yours. Spread the word and let's get our houses in order. See you back here April 1!!