They're ready for a piece for sure!
Yes, I am the baking/cooking queen this week. I did make that chicken and dumplings last night. Wow! It was great! But next time, since I'll be making it for a LOAD of people at church, I think I'll buy pre-roasted chickens just to save time. I'll post that recipe another time. I changed a few other things too. (As usual.)
Anyhoona, there's so much to make! And since it's been cooler and rainy here I've really been baking it up. And in preparation for the American visitor, I will also be making various and sundry muffins, cookies, biscotti, etc. So be prepared to see a BUNCH of posts forthcoming with all the bakiness.
Today I'm sharing the
Cinnamon Bread
Recipe. Yum!
This is a yeast bread recipe, which means you can't wake up in the morning and throw it together in ten minutes for breakfast. You've got to be an EARLY riser. If you are, then you have my kudos because I am not willing to get up at 4:30 AM to make it. Mid-morning is more my style.
W
hat you'll need:
5-5 1/4C flour
1 pkg dry yeast
1 1/3C milk
3T sugar
3T margarine
1/2t Salt
2 Eggs
1/2C sugar
2t cinnamon
How to do it:
1. In your favorite bowl mix together 2C of flour, and your yeast package. (Just stir it up a little bit. Nothing major.) Now, in a small saucepan, combine sugar, salt, milk and margarine. Heat on low until butter
almost
melts. Add it to the flour with the two eggs. Beat on low for 30 seconds, then on high for 3 minutes. Add the remaining flour and stir with a spoon until it holds together. It should look something like this:
2. Turn the dough out onto a floured surface and knead for 7 minutes. Yes, 7. You can do it, and your triceps will thank you for the exercise!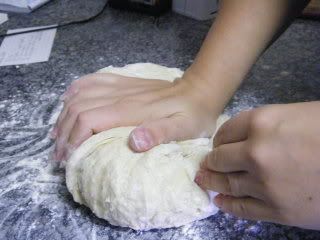 When it's done, shape it into a ball. It should be smooth and elastic. Place it in a greased bowl, and turn it to cover with oil.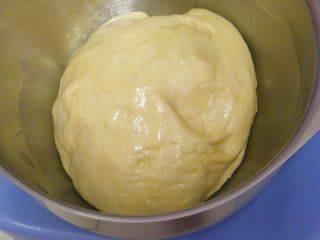 Cover and let it rise 1 hour. (If you use quick rise yeast, then you better check it after thirty minutes. How? Press two fingers in the top of it and if the marks stay, it's ready.)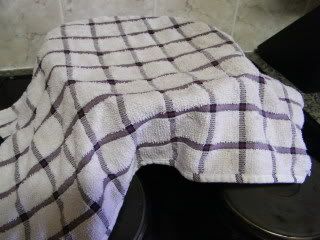 3. Punch down, then divide in half. Cover and let it rest 10 minutes. Grease two loaf pans. Roll dough out to 12x7 in rectangle. Now, mine are never the right size. Usually around 14x8 instead. Nobody will notice, trust me.
4. Brush the dough with a little water.
Then sprinkle half of the cinnamon-sugar mix over it. I always push it down a little with my hand to make sure it sticks.
5. Roll it up in a loaf starting at a short end. Pinch the ends securely. Really pinch them good. Do the same for the seam that runs the length of the loaf. If you don't pinch it, it will come apart when it rises, and then you'll be mad. Because all the cinnamon will fall out and it won't taste like it's supposed to.
6. Place each loaf in a lightly greased pan, and let it rise another 30 minutes. (For quick rise yeast, check it after 15 minutes.) Now bake them for 25 minutes. Remove them from the pans and cool them on the rack.
7. Get out the butter, cut a thick slice, and smear the butter all over it. Now, enjoy it slowly or you'll eat too much. Share with the family, even if you don't want to. Otherwise you'll have a revolt on your hands.
Yeah, I'd say it's a nice way to spend a Saturday morning.