So we were out doing the weekly shopping, and beautiful Gala Apples caught my eye. They were on special for $1.49 per bag, so I bought three and thought it felt like an applesauce night.

And I was right. It was.

We got home kinda late, had an easy supper, and then everyone pitched in to help get the apples ready to go. Well, not the Prince because he was busy doing man-type stuff. But us girls all banded together and got the job done in no time at all.

Now, I don't have pictures of all the chopping and coring of the apples because the day was WARM, and I was dressed accordingly, which means I was in clothes that only the family sees me in. But trust me, I was a coring machine, and my two oldest girls were chopping maniacs. The youngest didn't help because she had "a hurty cut" on her thumb. But she tested the apples and assured us they tasted great.

And maybe you're wondering if I peel the apples. Of course not! Why would I waste all that time and all that fiber? It's so much easier to just chop them up and dump them in the pot, including all the natural (laxatative) benefits. (But I don't recommend this method if you're using Golden Delicious. The peels just don't soften up well.)

You can call me lazy if you want to. Quick- what movie is that phrase adapted from?

Anyway, just chop up the apples in any size you want. They'll cook well no matter how you do it. Then dump them, gently if you can manage it, into a pretty big pot, and fill halfway with water. Add a cup or two of apple juice if you have it. If not, don't worry about it. Just pop the lid on and get them going.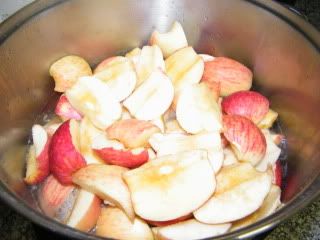 Then you boil the apples until soft. Not until super mushy, but until soft. And while you're waiting, why not have a conversation with an imaginary friend on your handy-dandy butternut squash? It's the latest rage here at Castle de JulieMom. All the girls are doing it.

Then, (and here's my favorite part) you pull out the blender and whip up the applesauce! I just ladle big heaping mounds of apples into the blender and add some of the water/juice from the pot. Blend it up a little, and add more liquid as necessary. But don't make it too runny. 'Cause that's just wrong. After each blending cycle pour the applesauce into a large container that you'll use to store it in the fridge. So, something with a lid People.


Oh yeah, and into the last batch that I blend, I add about a half cup of sugar. Not too sweet, but adds just a touch of YUMMY. When you're all done blending, add the cinnamon on top and blend it in with a whisk. Yes, you could add it while blender-ing, but I don't. Don't ask my why. That's just how we do it here.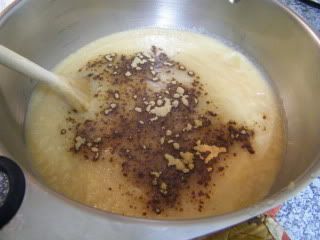 Then, let it cool on the counter for about ten minutes. Feed it to your family while it's warm and you'll be their new hero. Or, refrigerate it overnight and have it with breakfast the next day nice and chilled. Either way, they'll love it!

And you'll love it that they love it.