Last night the girls and I had a fun time decorating little cakes I made. I had bought the small cake pans last time I went to our favorite (and only) bakery supply store. And I bought a bunch of gel colors because the liquid ones from the grocery store can make your frosting too thin, give it a weird taste, and can make it separate. Not a good look for a cake.

Since we've been in South Africa, I have been making cakes for special occasions. It's a new hobby, and people really enjoy them. (I think.) Anyhoona, since I had a bunch of decorations left over from several birthday cakes and special occasion cakes, I decided decorating cakes would be a fun break for my girls since they did a DOUBLE day of school yesterday. I was very pleased with them for it.

I made up some marble cakes because this yellow cake recipe (which is my all-time favorite for people that don't like chocolate) was a bit too moist, and didn't bake well in the aluminum tins. I need to fiddle with the baking times. I'm sure that's the problem. But marble was easy enough, and it came out beautifully. I may refer to this recipe again and again because it baked so nicely. (And if you need a killer buttercream recipe, let me know and I'll hook you up.)

It started out as a surprise, but as soon as they saw me making frosting, they figured it out. (Sometimes it doesn't pay to have smart kids.) I could hardly get them to finish school since they were excited about the decorating, and kept coming in the kitchen to see what color frosting I was making next. But they finished up a little after dinner time, and then we sat for the next hour and worked on cakes.

I let them frost their own (at first) but eventually had to step in, otherwise Sleeping Beauty's would have been three inches thick on the sides. Definite sugar coma possibility. But the rest of it they did themselves without any help from Mom. And yes, I know they're names are on their cakes, but I'm okay with that. As long as you all promise not to fly here and stalk my kids, m'kay?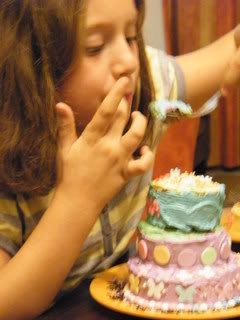 And I feel like I must insert here that they were only allowed to eat the TOP layer. The rest is still waiting in the cupboard...didn't want you thinking that I let them have all that sugar IN ONE DAY. Nope. I like my rest around here just a tad too much to give them all that. LOL.

And I only had one bite of the one I made. That's something new!