This morning I woke up before six to see the Prince off to teach. And as I was walking around my FILTHY kitchen, I had a thought.

Hmm...I wonder what this place would look like CLEAN? Like, if I washed the dishes right after dinner instead of leaving them until the next morning? I mean, I've cleaned it hundreds of times, but just the basics: wiping down the counters, washing the dishes, letting them dry in the rack, using them and washing them again, mopping the floor when absolutely necessary....the list is short.

So this morning when I was putting away clean dishes, I noticed that the insides of drawers were dirty. How can that be? Do the forks and spoons party when that drawer is shut? Do they eat leftovers and leave crumbs all over the place? How does this happen?!? How do toothpicks INSIDE a drawer get dirty??

So I cleaned the silverware drawer. Threw out the toothpicks. Wiped down the inside and re-organized the stuff not in a box-thingy. It took two minutes, and the difference is unbelievably striking!

Of course, a real woman would have posted before and after pics, but I forgot.

After this small victory over dirt and dust, I went to put away a pot. Wow. I was not ready for the nastiness I encountered. There were yellow rings in the bottom of the pot drawer. It looked like grease or oil, but I had no idea how it could have gotten there in the first place. I'm not a perfect housekeeper, but I don't put greasy pots away. Come on!

So after I scrubbed (with the scrubby side of a green sponge) the drawer out and made it spotless, it looked like this: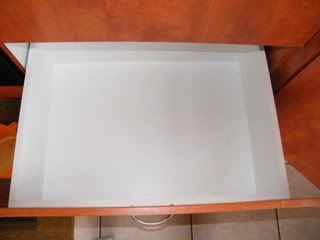 I know, I forgot the 'before' picture. Sue me.
So after some investigating, I figured out that ALL my pots had an orange-type film on the bottom of them. But unfortunately for me it wasn't an easy-peel off kind of film like cheese slices are wrapped in. It was a stuck-on-from-all-the-heat-and-being-ignored kind of film. Not pretty. And NOT easy to clean!
But did you know that stuff
will
come off? Well, I didn't. Obviously.
Here is the biggest and worst pot I owned when I started. It's supposed to be silver all over. Ew.
Yes, my thumbs are sore. Yes, I wish I owned some rubber gloves. Yes, I wish I had realized that it was gunk on the bottom of my pots and not "heat marks". Yes, I have a much bigger appreciation for restaurant pot scrubbers.
And after I was done with that one, and made all these new discoveries, I had to scrub the other
five
!! Ow! I just checked, and I think I still have metal dust under my thumbnails. And both thumbs are now flat on the sides. [shakes hands] Whew!
With that done, I was inspired to do the rest of the house. So I broke out the mop, vacuumed like a mad woman (including corners behind beds and furniture and doors) dusted, and did a load of laundry. And I was done with it all before 10:00 AM!! And I must admit it felt good.
Not that this will become the daily grind around here, but it is refreshing to do it once in a while. Wouldn't want to get the Prince's hopes up too high only to have them dashed, ya know? It's only right.