Ok, I don't know HOW I posted yesterday thinking it was Thursday, after I spent the entire morning getting power point slides ready for FRIDAY Bible Club! Whatever. My brain is so weird. So I said yesterday I would be posting tomorrow for Fitness Friday and I will. Which is today. Forgive my incompetence would ya? Thanks.

So, this year at the beach we started out with our girls in the regular style of swim suits, strappy, cut up to the bum, and snug around the tummy. But they were wearing out, and they were constantly getting too much sun no matter how much lotion I put on them. So one day when the Prince wasn't at the beach with us, (because we had car issues the first day there; flat tire etc. Did I forget to mention that? And he couldn't swim because he was waiting for the car to get done.) he walked along the strip and found a beach shop.

Inside they had really cute options for kids' swimsuits (boy and girls) that were one piece body suits with sleeves to the elbow, and shorts to the knee. I loved them. And while they can look a little tight when wet, they don't show skin, and are great to block the sun! So here are a few pics.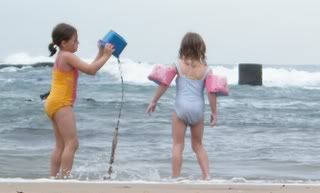 Before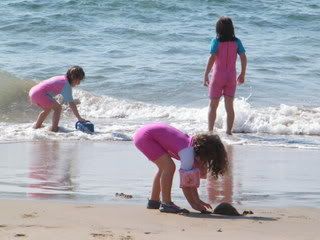 After

I realize you probably can't find them in the States for the prices we did ($13 each!) but I
have
found a link to a site that sells the exact same thing. Click
here
for pics of one piece suits with short or long sleeves. Take a deep breath to prepare for the prices. They may shock you.
And for our friends adhering to Islamic standards...no I'm not kidding. And the pants are kinda cute! Click the photo to go to the link.
Here's
a link to some very modest (but still possibly flattering) swim suit tops. They are pricey, but if you get one that's on sale, and you already have shorts you can wear (think Umbros) then it's not too bad. And all their shirts have FULL bra support. Can't beat that!
And I am on board with everyone else's idea to get my feet in order. Sanding them down (I have a friend who uses a knife to cut off dead skin- yikes!) and smoothing them up, and then polishing are easy things to do. I just shower most of the time, and find that to really do my feet right I need to sit in the tub. So, I may make it a priority tonight. We'll see.
And as for exercise, I DID clean a lot this week, so my upper arms are totally worked out. And the girls and I took walks around the neighborhood a few times. And at the beach we played in the ocean, we walked along the sand (which is hard to walk in!) and we, um, rested. But we needed that too. So, this week I will be getting back into gear. Pray for me to really do it!!
Have a great weekend!