I have been absent from the internet most of this week because I have been spring cleaning my house. I know, it's not spring here, it's almost fall, but the idea is the same. And my house has never looked so good! (Even the places I usually forget about.)

I took everything out of the pantry, wiped down the shelves, re-organized, and vacuumed under the bottom shelf. It looks so awesome now! Do you really want pictures? I didn't do the whole before and after thing because I was too into getting it done. The final result is sooo nice. And you'll just have to trust me on that one.

Now, I do have a picture or two more to share from our trip to the beach. Are you tired of hearing about it yet? I hope not. Because I'm going to share regardless. I hope you weren't waiting for me to say irregardless, because that's not a word, whether spell check recognizes it or not.

Now, let me give you some background of our trip. Traffic here is a dead gridlock, starting about 6:30 AM. We had seven hours of driving time (not to mention potty breaks and a lunch stop) ahead of us, so we decided to wake up at 3:30 AM and leave by 4AM. And we did. For real. I wouldn't lie about that. I'm too proud of the accomplishment.

The only problem is that the kids were so excited they didn't sleep one iota for the whole trip! I was really shocked. They did, however, sing Jingle Bells about 40,000 times. And we listened to the same CD over and over again because it was one thing I hadn't thought to bring. This picture reflects how I felt about that.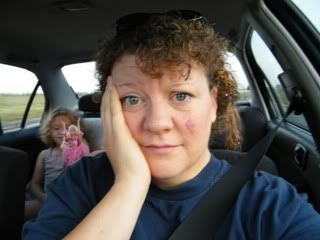 This is a photo I took of some of the flowers at a petrol station on the way. They had a pretty extensive selection of flowers, and since it was drizzly that morning, the flowers all had water droplets on them. So pretty! I have never seen a flower like this before.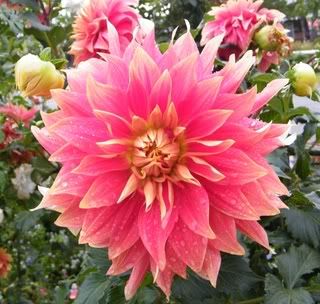 There was also some kind of farm along the highway, obviously a producer of sunflower oil or something. Miles and miles of sunflowers lining the road. So pretty! Aunt Jo, this pic is for you!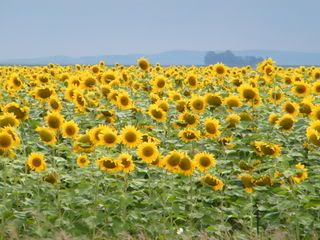 This is a picture of the kitchen in our flat. (Which means apartment, for you Americans.)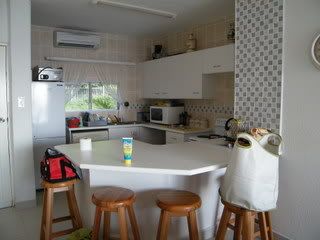 Snow White after a morning at the beach. She was a little chilled, so I wrapped her up good. Isn't she adorable? Love that hat.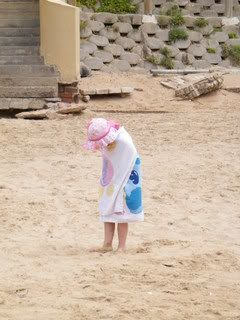 I do have tons more photos to share, but the internet seems to be in a slump. Like it's taking a nap. Uploading photos is taking for-stinkin-ever. Pooh. Maybe I can post them this weekend. Then only the die-hard readers will be inundated with photos no one wants to see. Because I know this whole trip is just fascinating for you all.

And the title of this post is misleading. Not only did I not share any pictures of the actual 'beachiness' of the beach, but I also did not include 'other goodies'. Sorry about that. False advertising isn't normally my style.

Well, let me include this:
It's a photo that came up on Google images under the topic "other goodies". Apparently it's for sale, with a few other precious trinkets. Awesome.

I will be back tomorrow for Fitness Friday. Looking forward to that. See you then!