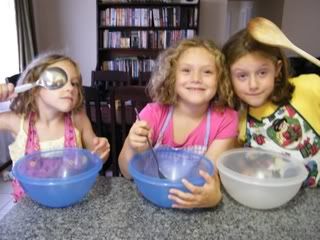 I know I promised pictures of the girls' super-cute craftiness that took place on Friday, but I can't find the photos. I think they're in the Prince's computer, but I cannot promise that. I know I uploaded photos SOMEWHERE, I just can't remember where.

So, we're introducing the first in what will hopefully be a semi-regular series.

JulieMom's Cooking Academy!!

I am a little excited about it, can you tell?

Saturday proved to be a drizzly, rainy affair, so I gathered up my little women and decided it would be a good time to begin their culinary training. Our goal for the day? To make zucchini bread. The girls donned their aprons, I grabbed the camera, and we got to work.

Here are some photos of the process.

We started by having Cinderella read aloud the list of ingredients. (Well, we really started by having everyone go and wash their hands thoroughly.) We talked about how it's important to read the entire list before starting, to make sure we have everything we need.

Love the elbow in the bowl. Sanitary.
Then we read through the entire recipe so we would know what to expect; to make sure we had the oven at the right temperature, to help us know what bowls etc. we would need, and so we were familiar with basic recipe language.
After pre-heating the oven and greasing our pans, (which are oversize loaf pans- hence the quadrupled recipe) we began to measure the dry ingredients. This photo is Snow White looking at a teaspoon and realizing
why
it's a teaspoon and
not
a tablespoon. (The small 'tsp' gives it away in case you were wondering.)
Each of us took turns with the ingredients, taking care that we had the tops of the measuring devices leveled off.
Then, Fun! Oh! Fun! Egg cracking and wet ingredients!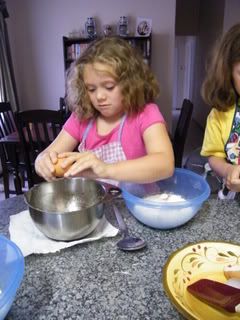 See how much fun she's having? Ignore the grimace.
Each girl cracked her own egg, and then I, JulieMom, went fishing for shell debris. (I
am
the instructor after all.) They did a good job!
After the wet ingredients were suitably measured, they had to be mixed.

And incorporated into the dry ingredients.
When that was finished, it was time to pour everything into the 'prepared pans'. (That's recipe lingo. Just in case you were unaware.)
Then it was time to bake!

And with their fantastic effort, the girls' bread came out PERFECT!
Yum.
Tune in next time when we'll share our journey through another basic cooking skill.
Which may or may not include cutting. And bleeding.
But hopefully not so much with the bleeding.