As promised, here are the pictures of our most recent craft day. They were in the Prince's laptop, as I originally figured. Whew! Glad they weren't send into the Great Abyss of Accidentally Deleted Pics. Not that I've sent pics there before, I've just heard about it.

Ahem.

First up is a bracelet kit that Sleeping Beauty received as a gift from one of our American visitors. Isn't that sweet? The kit contained bracelets (duh), glue, glitter glue, tiny itty bitty sequins (my favorite!), tinier little clear and pink beads (my other favorite!), ribbon, sequin ropes, and frustration.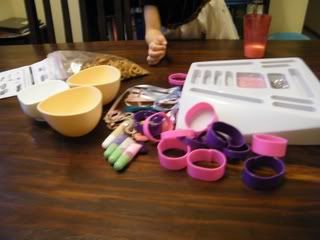 Did I say that outloud? Oops.

We actually had a really good time making stuff. There wasn't much glitter glue/paint in the tubes, (considering they were less than two inches long) but we got remarkable use out of them. I won't do a play-by-play this time. You can just see how they came out.

Ok, I just realized I don't have any pictures of the final products, so you're gonna have to trust me when I say they TOTALLY ROCKED!! Ok?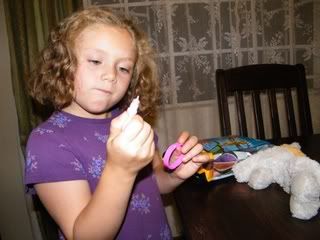 Our second project (also a gift from visitors) was to make supercool stuff from Model Magic, a product from Crayola. It's like clay, but does not crumble or stain your hands. I can't describe exactly what it feels like, except to say "different". Was that helpful? Yeah, I thought so.

Anyway, you can mold it into any shape/design you want. You can cut it with scissors, a knife, or cookie cutters. Or you can just shape it with your hands, which is my preferred method. Then you leave it out all night and it "hardens and dries". It doesn't harden all the way like clay, but it does become un-moldable. Your design will stay. Here are some action shots of the girls using the "clay", and then some of the results.