Today is the Prince's 40th birthday!! Yay! What a wonderful milestone to reach. And to me, he doesn't look a day over 39. Honest! See?


Sorry Babe, we know it's you.
Many of you know we've already celebrated this event with a surprise party on Thanksgiving Day, but there is more to come! Tonight we are going out on a double date with our missionary friends the Radebaughs. No kids. Wow! Getting to eat and having adult conversation! I can't wait. Pray that nothing happens between now and then to ruin it!
I just wanted to take the time now to let you all know how incredibly gypped you were when God gave the Prince to ME. He is the greatest partner one could ask for in this life. He is helpful, sensitive (but still MANLY-never doubt!), caring, loving, a wonderful teacher, in tune with the Holy Spirit of God, an excellent kisser, a fantastic Daddy, laughs at my jokes, a great provider, a godly leader of our home, a Mr. Fix-It, and nice to look at too.
Using the Easy Bake Oven
Being Goofy With Me
At
Aunt Bossy's
Wedding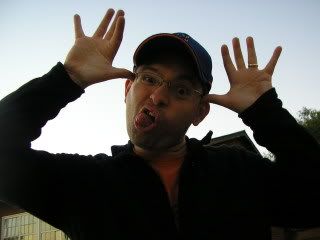 Being Goofy on His Own- I'm a good influence!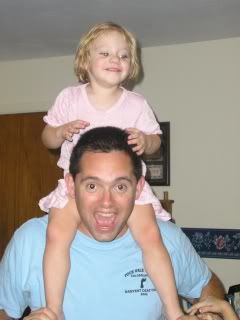 The Great Daddy-Man!
So you see, God loves me. I know He does, because He gave the Prince to ME.
Happy 40th birthday Honey! I love you very much and can't wait to spend at least the next forty years together. May God bless you and give you a wonderful day full of fun and the assurance that you are indeed loved beyond measure!
Can't wait for our date! I love you.