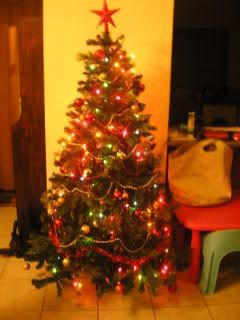 Our Christmas tree this year did NOT start out as one of my favorites ever. It even ranked up there (in my mind at least) with the "Charlie Brown ugly branch" tree. Now, I don't want you to think that I am ungrateful. I am SO thankful we have a tree. Christmas really wouldn't feel like Christmas without a tree. You know, since it's been in the high 80s every day since November something. (And it's only going to get hotter.)
So, let me give a little background for this tree. When we moved here last year the exchange rate was pretty lousy. If I remember right, it was just over 6.5 rand to a dollar. Now it's MUCH better. But at the time of purchasing our tree, I didn't know where to get decorations, so I just bought them from our local supermarket where I bought most everything else.

Big. Mistake.

Can anyone say 'cheap plastic ornaments'? I knew you could.

Looking back now, I realize I didn't have a choice. Other stores were not known to me, and even if they had been, I couldn't have afforded much. So this year, after decorating with what we had and not being impressed with the results, I got creative.

The princesses and I made glitter snowflake ornaments. And they make our tree look awesome. It was a fun thing to surprise the girls with on Saturday morning. They all sat around in their pajamas and sprinkled glitter oh-so-carefully on the gluey snowflakes. It was a blast.


And our tree is now presentable. Cute, even.

Although the heated debate whether it's prettier with colored lights or white lights is far from over. I personally MUCH prefer white lights, while the Prince is a fan of colored lights. This may have been the catalyst for all the dislike for the tree in the first place.
But I'm ok with it now. It's not so bad, right?