Happy Friday to you all! Let me just start by saying that in the past two weeks I have worked out at the gym ONCE. (I feel your pain, Karly.) But I have to say we went to an amusement park the day after Thanksgiving, and that was a lot of walking. Don't be discouraged by my lack of discipline. (I know, Aunt Bossy, get my OWN motivation.)

Well, I had been praying for a gym buddy and not sure where I could find one, because the gym is expensive and not many people I know go. One friend who goes there takes her iPod and runs for twenty minutes. Not exactly my workout style.

Well, new people moved in next door. And yesterday I brought them cookies. (I know- but I only ate one.) The lady and I were talking and I found out she goes to my gy
m, but hates to go by herself. So do I! So, we will be going together. Yay! And it's also an opportunity to share the love of Christ with her. Bonus! I am looking forward to getting back to the gym. (Did that really come out of my mouth?!?) It will be nice to go with a buddy. And she's worked with a personal trainer before, so she has tips and tricks to share with me. She even offered to print out her eating plan for me. Now that's a buddy. LOL.

Anyhoona, getting to the topic at hand. What do I like about myself?

That's a loaded question. I'm glad Brenda clarified that it had to be something physical, because I could have listed at least THREE things I like about my personality/emotional self. *sigh*

Anyhoona, back to the topic at hand. I have a new picture to share. I think it looks like I've made progress. No laughing, ok? I am comparing it with a picture from a trip the Prince and I took for our anniversary two years ago. Get ready, 'cause here it comes.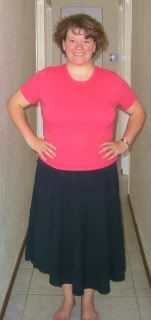 I know it's not a great comparison because the first picture is small, and the umbrella hides a lot of my head, but I think even from the face/shoulder comparison there is a marked difference. Right? Or am I dreaming here? And I believe it's the same skirt. It used to hang nice because I filled it out. Now it hangs crooked because it's big. That's a good thing!

But in these pictures the part of me that I like isn't even visible. Can you guess what it is? Yep, my legs. And I feel really weird talking about this with Blogland. But I'll get over it for the sake of posterity. Is this for posterity? It doesn't matter. I like my legs because the have a shape. My ankles are defined pretty well, and I have definite muscle tone. That being said, I rarely wear things that show my legs. Why? Because I am trying to be modest. I wear work out shorts to the gym, and that's it. Other things I wear never go TO my knees, and definitely never OVER my knees. Besides, the Prince is a jealous guy and wouldn't want the attention focused there.

There is one more thing I like about me. My smile. And that's something that isn't going to change, no matter how much weight I lose, or gain. I look happy most of the time, because I am. I like to smile, and I am thankful that God blessed me with (mostly) straight teeth. A smile lights up a person's face, so if you don't smile often, you should! It's an instant way to brighten yourself up, and make yourself a bit more attractive. Try it!