I know, I was surprised too.

When we were on our little trip to the Northwest Province, our friends suggested we take a drive around and look at Christmas lights. I LOVE Christmas lights and decorations (no snide remarks about my tree now, ya hear?) so I was happy to oblige. And with Christmas music playing, and the AC pumped up pretty high in the kombi it almost felt like Christmas back home in NY.

Almost.

I was worried when we started that the lights wouldn't get much better than this:

And some houses weren't much better. But then we hit the mother lode. This house was decorated like all the houses you see in the holiday movies back in the States where the neighbors can't sleep because of all the wattage.
Clark Griswold-esque if you get my drift.
Needless to say, I was shocked at the amount of decorations All. Over. Their. House.
Check it out: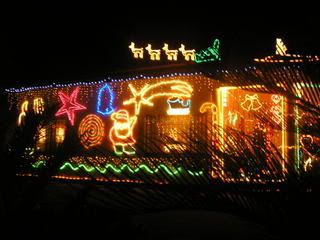 I even managed to get a pretty decent movie on my digital camera, but I'm not sure how to upload videos. It was taking too long, so I left it out. But if you look at the pictures long enough while squinting, and blink your eyes in rapid succession, you'll get the same strobe-light effect I did being there in person. Just don't do it if you're prone to seizures. Ok?
Anyhoona-
believe it or not I was informed, after being utterly overwhelmed by and sensory overloaded from the decorations on this house, that there was a
different house
in the past with
more stuff than this
. They had whole rooms in their house decorated in holiday cheer that they would let COMPLETE STRANGERS walk through.
I'm sorry, but that goes a little beyond 'spreading holiday cheer' and borders on 'letting thieves case the joint with permission'.
But maybe that's just me.
It was a great lead into the actual Christmas Day, which started off cold enough for me to wear a turtleneck. Yahoo! It really felt like Christmas!
For a while anyway. Then it got back into the 80s. But I lived the dream for a few hours.
What more could you ask for at Christmas time?