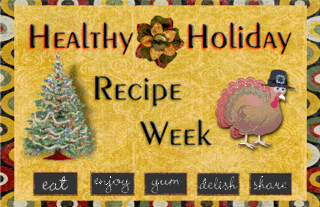 ...or doing away with it altogether. I am not a fan of turkey. I know! There are just too many variables that can go wrong. Have you ever had a turkey that was so dry you had to drink with every bite, or pile on a side dish with it just to get it down? I have. And that's why we don't have turkey for the holidays.

And what about the chance that you could kill your family with an undercooked bird? Definitely not worth the risk to me. I don't need that kind of pressure hanging over my head for the holidays. It only adds to the emotional eating issue. LOL.

So today I thought I would give you two alternatives to the main meat dish. Both of these meats will go well with the traditional sides of a Thanksgiving meal. One is a crock pot roast that is moist and delicious. This gets my vote because all the prep work is done early, and you don't have to do anything with it once it starts cooking. That's my kind of holiday meal. Low pressure, high flavor!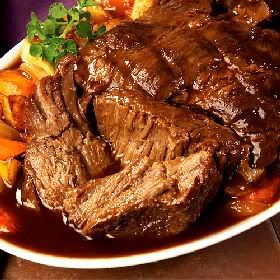 Ingredients:
4 to 5 lbs roast
4 or 5 potatoes
2 onions (chopped)
6 carrots (chopped)
salt
pepper
1 ½ c. water
3 T. soy sauce
¼ c. brown sugar
1 T. lemon juice
½ c. vinegar
1 T. Worcestershire sauce
Method:

Mix sauce ingredients together.
Put roast in crock pot.
Place veggies around roast.

Pour mixture over roast.
Cook: Low 10 to 12 hours.
Depending on how many people you're feeding, this chicken recipe can also be an easy thing to do. Surely two or three chickens only take up as much fridge space as a big turkey. The thing I love about this recipe is that it brines overnight, locking in the flavor and moisture. Another thing I love is that all the ingredients are already (usually) in my pantry, so I won't need to run out to the store to grab something I forgot. Also, depending on the size of your roasting pan, you can fit two chickens side by side.
Roasted Garlic Chicken Recipe
Ingredients
1/2 cup roasted garlic cloves
2 cups water
1 Tbsp salt
1/2 teaspoon freshly ground black pepper
1 Tbsp olive oil
1/2 lemon, cut into 4 wedges
2 bay leaves
1 (3-4 pound) whole roasting chicken
Method
1 Prepare the brine by combining garlic, water, salt, pepper and olive oil in a blender. Squeeze the juice from the lemon wedges into the brine, blend. Stir in the bay leaves.
2 Place chicken in a large, resealable plastic bag, or in a large non-reactive bowl. Pour the brine all over the chicken in the bag, or in the bowl. Add the (already squeezed) lemon wedges. Squeeze out all the air from the bag and seal, or place plastic wrap over the chicken in the bowl. Refrigerate overnight - 12 to 24 hours.
3 Preheat the oven to 375°F. Remove the chicken from the brine. Sprinkle salt and pepper all over the chicken. Place the chicken on a rack, in a roasting pan, breast side up. Roast for about an hour, until the juices run clear from the thigh when pierced with a fork. (Breast meat should have an internal temperature of 165°F, thigh meat should have an internal temperature of 175°F.)
Let the chicken rest for 10 minutes before carving and serving.
Sounds so good! And only having to roast them for an hour makes a much easier poultry dish than figuring out how long to cook per pound, and having to baste it. Can you tell I
really
don't like turkey???
Hope you try one of these and start a new tradition. Tomorrow we'll talk about desserts!
And before you freak out, let me leave you with a thought:
Proverbs 25:28 'He that hath no rule over his own spirit is like a city that is broken down, and without walls." Control yourself, or you're up for grabs to be overcome by anything!
Let's strive for moderation this holiday season and every day with help from the Lord!!