Hi ladies! This week, as we all have been in anticipation (and some of us maybe apprehension?) of was Thanksgiving. I, for one, did exceptionally well. I had one small plate of food, no seconds and no dessert. Well, not at the noon dinner anyway. I was saving up for a piece of the birthday cake I made for the Prince. And it was a doozy of a cake too. More on that later.

The first surprise for me, has been that even though I have not exercised like I should in the past two weeks, I have still lost weight. My pants are still getting baggier, and I am looking thinner! That has been a surprise, because I thought the minute I slowed down I would balloon back up. Not the case, and I am thankful.

However- I am NOT using this as an excuse to suddenly quit with the fitness stuff. I just see it as a nice perk. I think I have trained myself to know what is and is not acceptable in the eating department, and I also have trained my body to work off weight by boosting my metabolism these past weeks. I am surprised but thankful!

Here comes the second surprise. As some of you may know, the Prince is turning 40 on Tuesday. Yes, I said 40! But that does not mean I am his age. We are actually just a tad over eight years apart. (He's December 1968, I'm February 1977.) Anyhoona, some of our dear friends from out of town were going to be in for the holiday, and I decided (sort of last minute) that I would plan a surprise party for the Prince while we were all together. He had NO IDEA. I surprised him good! And it was a sweet time. He was really touched.

So, we had lunch AND dinner with our friends. After dinner the Prince went to get petrol (gas to you Americans) and I had time to set up the cake and gifts. When he came in and saw everything, he was SHOCKED to say the least. I was so glad I had managed to keep things from him without lying. Here are some pics of the cake: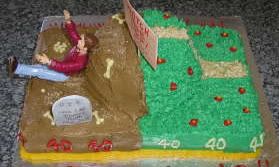 The right side is the "young" side, in full bloom.
The dirt and bones side is the "old" side.
The doll is the Prince sliding down "The Hill".
He loved it. It was a yellow cake. The frosting is all regular buttercream. I made brown frosting by mixing blue, red, and yellow. The path is crushed up regular cookies. The hill was made by baking a cake in a small, all-metal mixing bowl, then inverting it onto the 9x13 cake when cool. It was a lot of fun!

The signs say "Welcome to The Hill, only 39+ may cross over", "Watch Your Step, it's all down hill from here", and a tombstone that says "Here Lies the Prince's Youth".

I had one small piece. And when I say small, I mean like two inches square. Of course, I'm not a sweets person anyway. If it were a bag of chips I would've had a much harder time. :0)

Happy Weekend!!