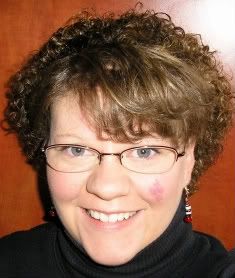 This week's pic. New hairdo. I know, you can't tell. It's ok.
Edited to add: Um, how did I get so confused? Why did I think this week was about holiday eating?? No idea. However, I am not changing the post. Still relevant, still helpful. Just not the exact right topic. Sorry!
So, this week I gym-ed twice. Not the best week for exercise, but I feel ok. I didn't get as much sleep as I usually do, but I did eat well this week. So, again, I am not freaking out about it. Take it all in stride, and work out hard next week. I need some motivation. Any suggestions on that front? I also have not weighed myself, etc, but all my pants are (seriously) falling off.


We were going shopping the other day, and the Prince actually told me to take off the ones I was wearing. (No, not for THAT.) I guess they're a little TOO baggy in the rump. I have always been a little lacking in the rump area. So, I may need to purchase some replacements soon, but we'll see. As long as they don't slip off in front of company I'm good.

Anyhoona...
This week
Brenda
has asked us to help each other out with our best holiday eating tips. Not
how
to eat, per se, (don't we all already know that? And that's why we need Fitness Friday?) but how to avoid
over
eating. In other words, "How can we enjoy the holidays without looking like a pig at the table and putting back on all the weight we've lost?"
Well my friends, your guess is as good as mine.
Kidding!
I think I have some helpful tips to keep us all slim and trim during the holidays. (None of which include fasting as a celebratory rite of passage, either.)
Since we have all agreed this is a lifestyle change, and not a fly by night quick fix, we need to remember that holiday meals are just that: meals. And when faced with food we need to act in moderation. It also helps (big time!) to have a plan. Some ways to tackle the temptation are:
1. Pray before you leave the house.
Asking God to help you show self-control (which is a fruit of the Spirit, remember?) is always a great way to approach a meal. Since we all know it will be a temptation to over-eat, let's remember each other as well. Ok?
2. Pretend your plate is smaller.
(Or ask for a salad plate!) Normally during the holidays people break out the good china, or the good paper which are always a size huger than normal. Try to think of your plate as only eight inches in diameter, rather than the trditional twelve inches. Actually measure out this size and keep it in mind while figuring your portions. Anything that falls outside this measurement doesn't get eaten.
3. Look over the choices before you start piling on the food.
There are usually way too many of your favorite things on the spread for the holidays. Take a walk around the food room and think about what you
really
want to taste. When you choose things you really want, then you can eat smaller amounts and be satisfied, because it's something you really like. Don't sample "a little of everything". If something looks like it's too calorie laden, skip it. Your gut will thank you later. Especially if you've been more strict about what you're ingesting. Extra fat in the system means extra time in the "powder room" later.
4. Drink a HUGE glass of water before dinner starts.
Or two smaller glasses. When you're full of liquid, you'll be hard pressed to stuff tons of food on top of it. Drinking before you eat also helps aid digestion, making sure you get all the nutrients (in holiday food??) from what you're eating.
5. Don't offer to help put away the food.
When you pack it away, (in containers, not in YOU!) there is a
strong
temptation to nibble a little here, oh- a taste of that there, and before you know it you've had a second meal right there in the kitchen. If you want to help, ask if you can bring in dishes to scrape (which will NOT be appetizing) and wash. Or dry and put them away. Stay away from the food.
6. Make something healthy to put on the table.
If you know your family tends to have many rich, fat-filled foods, then bring something healthy you know you'll like. And don't worry about asking, just bring it! Who can turn down a dish once it's in the house?
7. Ask the hubby to spy on you.
If you know he'll be watching what you eat as closely as you are, you'll be less likely to over do it. Especially if you ask him to say your name firmly and oink at you when you're about to eat too much. Your family may be appalled, but hey, whatever helps, right? ;0)
8. Savor every bite.
When you actually take the time to taste your food instead of just ingesting mass quantities, you'll be so much more satisfied. Let the herbs and spices (and butter LOL) fill your palate. Really taste the texture and richness of your favorites. It's a good way to slow you down too. If you eat slowly you give your body the chance to tell you it's full before you eat too much.
9. Let yourself have a treat.
When there are tables full of goodies, having just one is ok. If this is a lifestyle change, then sweets are allowed sometimes. You have to learn to deal with them in moderation just like everything else. You cannot make yourself feel guilty for eating something that's a treat. I give you permission to eat something sweet, ok? If you don't eat a sweet in front of people, it's almost a given you'll scrounge around later and eat too much sweet when no one is looking. Be determined you'll only have one, and enjoy every bit of it!
10. Remember you're not just there for the food.
The holidays are a precious time to see family and friends, and spend un-interrupted fellowship with them. Soak in those feelings. Let the joy of being together and the list of blessings God has showered on you this past year really penetrate your mind and heart. You just may be full before you ever get to the table.
This week, again, there is no Foodie Friday. I am thinking next week will be a food-themed week. I will be posting healthy alternative recipes to your favorite holiday foods. Sound good? Make sure I do it!! I can't post the tofu recipes today because the shop didn't have it. They ordered it and it never came. Bummer. Look forward to next week!!
Happy Weekend!!