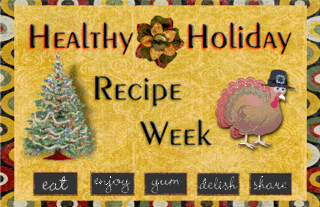 Since I've been participating in Fitness Friday, I have been learning to make-over the way I cook. And since the holidays are coming up, I decided this week will be devoted to healthy holiday cooking.

I found a great website full of healthy alternative recipes to our holiday favorites. Today's recipes are from eatingwell.com. They have a whole section devoted to making over some of our all-time favorite recipes, not only holiday food. Check them out!

The two favorites that are usually two of the biggest calorie-packed treats are Sweet Potato Casserole, and Green Bean Casserole. If you check out the calories for one serving, they're still pretty high, but if you just have to have these, better to make them as light as possible!

They have reduced the calories from the original by 42 percent(!) and saturated fat by 60 percent(!) And from the reviews on their site, the taste it still superb. No one missed the old one! I hope you'll think about giving them a try.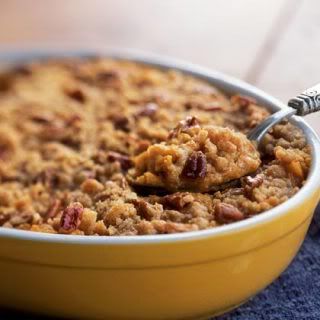 Makes 10 servings, about 1/2 cup each
ACTIVE TIME: 30 minutes
TOTAL TIME: 1 1/4 hours
EASE OF PREPARATION: Easy
2 1/2 pounds sweet potatoes (3 medium), peeled and cut into 2-inch chunks
2 large eggs
1 tablespoon canola oil
1 tablespoon honey
1/2 cup 1% milk
2 teaspoons freshly grated orange zest
1 teaspoon vanilla extract
1/2 teaspoon salt, or to taste

Topping
1/2 cup whole-wheat flour
1/3 cup packed brown sugar
4 teaspoons frozen orange juice concentrate
1 tablespoon canola oil
1 tablespoon butter, melted
1/2 cup chopped pecans (1 3/4 ounces)
1. Place sweet potatoes in a large saucepan; cover with lightly salted water and bring to a boil. Cover and cook over medium heat until tender, 10 to 15 minutes. Drain well and return to the pan. Mash with a potato masher. Measure out 3 cups. (Reserve any extra for another use.)
2. Preheat oven to 350°F. Coat an 8-inch-square (or similar 2-quart) baking dish with cooking spray.
3. Whisk eggs, oil and honey in a medium bowl. Add mashed sweet potato and mix well. Stir in milk, orange zest, vanilla and salt. Spread the mixture in the prepared baking dish.
4. To prepare topping: Mix flour, brown sugar, orange juice concentrate, oil and butter in a small bowl. Blend with a fork or your fingertips until crumbly. Stir in pecans. Sprinkle over the sweet potato mixture.
5. Bake the casserole until heated through and the top is lightly browned, 35 to 45 minutes.
NUTRITION INFORMATION: Per serving: 223 calories; 10 g fat (2 g sat, 5 g mono); 46 mg cholesterol; 31 g carbohydrate; 4 g protein; 4 g fiber; 163 mg sodium.

Nutrition bonus: Vitamin A (280% daily value), Vitamin C (25% dv).

2 Carbohydrate Servings
Green Bean Casserole
Makes 6 servings
ACTIVE TIME: 45 minutes
TOTAL TIME: 1 hour
EASE OF PREPARATION: Moderate
Onion topping
1/2 teaspoon canola oil
1 large onion, thinly sliced
1/2 cup fresh breadcrumbs

Sauce & green beans
2 cups skim milk
6 black peppercorns
1 bay leaf
Pinch grated nutmeg
1/2 teaspoon canola oil
1 small onion, finely chopped
1/2 pound mushrooms, trimmed and sliced (3 cups)
1 clove garlic, finely chopped
1/4 cup all-purpose flour
1/4 cup reduced-fat sour cream
1 teaspoon salt
1/2 teaspoon freshly ground pepper
1 9-ounce package frozen green beans (2 cups)
1. To make onion topping: Heat oil in a large nonstick skillet over low heat. Add sliced onion and cook, stirring occasionally, until very tender and golden, about 30 minutes. Set aside.
2. Meanwhile, preheat oven to 350 degrees F. Spread breadcrumbs on a baking sheet and toast, stirring once, until lightly browned, 5 to 10 minutes. Set aside.
3. To make sauce: Combine milk, peppercorns, bay leaf and nutmeg in a medium saucepan and heat over low until steaming. Remove from heat, let stand for 5 minutes and strain into a measuring cup. (Discard peppercorns and bay leaf.)
4. Meanwhile, heat oil in a large saucepan over medium heat. Add chopped onion and cook, stirring often, until golden, 3 to 4 minutes. Add mushrooms and garlic and cook, stirring, until tender, 3 to 4 minutes. Sprinkle flour over the vegetables and cook, stirring, for 1 minute. Slowly pour in the milk, whisking constantly. Bring to a boil, stirring. Reduce heat to low and cook, stirring, until thickened, about 1 minute. Remove from heat. Whisk in sour cream, salt and pepper.
5. To assemble and bake casserole: Preheat oven to 425 degrees F. Spread green beans evenly over the bottom of a shallow 2-quart baking dish and pour the sauce over the top. Toss together the reserved onions and breadcrumbs in a small bowl and spread over the beans. Bake until bubbling, 15 to 25 minutes.
NUTRITION INFORMATION: Per serving: 130 calories; 3 g fat (1 g sat, 1 g mono); 6 mg cholesterol; 21 g carbohydrate; 7 g protein; 3 g fiber; 491 mg sodium; 377 mg potassium.

Nutrition bonus: Calcium (15% daily value).

1 1/2 Carbohydrate Servings
Tune in tomorrow and see what else we can slim down while we try and beat the holiday poundage!